'You need a warrant to read my mail!' 100,000 sign anti-spying WH petition
Published time: 12 Dec, 2013 14:43
Edited time: 15 Dec, 2013 14:49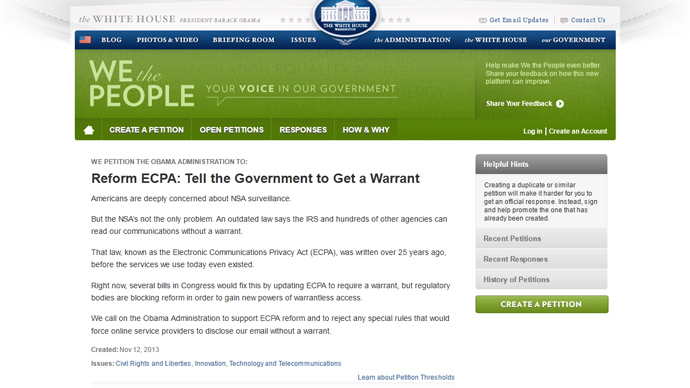 A White House petition demanding reform of the Electronic Communications Privacy Act (ECPA) to prevent undue snooping on Americans' online communications hit the 100,000 signature benchmark, forcing a government response.
The petition calling for a review of the 1986 act, which extended government restrictions on wire taps to include transmissions of electronic data by computer, reached the required number of signatures for a White House review on its December 21st deadline.
All petitions which reach the recently increased 100,000 threshold will be reviewed by officials in the presidential administration and an official response will be issued.
"Americans are deeply concerned about NSA surveillance," the petition read.
"But the NSA's not the only problem. An outdated law says the IRS and hundreds of other agencies can read our communications without a warrant.
That law, known as the Electronic Communications Privacy Act (ECPA), did in fact establish that electronic surveillance requires a search warrant.
But critics argue that the bill needed to be overhauled in light of rampant technological changes over the last 27 years, including the near universal use of global positioning systems, cell phones, e-mail, social networks and cloud computing. Many widespread forms of communication are open to warrantless surveillance due to legal loopholes created by the outdated legislation.
One primary distinction in the legislation is between moving electronic communications and stored electronic communications. For example, the so-called '180 day' rule says that any email stored on a third party server for more than 180 days is considered to be abandoned, and thus can be collected by a law enforcement agency with nothing more than a written statement saying the information is relevant to an investigation.
This exception, written long before the advent of cloud computing, effectively circumvented the need for a warrant or judicial overview.
THANK YOU to all who signed the #ECPA reform petition and helped us reach 100k signatures! This is a very big day for privacy reform.

— TechFreedom (@TechFreedom) December 12, 2013
"There has been an interpretation of the law from the government that says any document stored in the cloud can be accessed with a subpoena, regardless of how old it is," said Mark Stanley, a communications strategist with The Center for Democracy & Technology. "The government can access emails over 180 days old with just a subpoena. We also know that the [Justice Department] has interpreted the law to say that any emails that are opened — regardless of how old they are — can be accessed without a warrant."
"Right now, several bills in Congress would fix this by updating ECPA to require a warrant, but regulatory bodies are blocking reform in order to gain new powers of warrantless access," those behind the 'We the People Petition' said.
"We call on the Obama Administration to support ECPA reform and to reject any special rules that would force online service providers to disclose our email without a warrant."
In March, Senate Judiciary Committee Chairman Patrick Leahy (D-Vt.) and Senator Mike Lee (R-Utah) introduced bipartisan legislation to better protect digital privacy rights.
"No one could have imagined just how the internet and mobile technologies would transform how we communicate and exchange information today," Leahy said of the original ECPA law, which he himself co-authored.
"Privacy laws written in an analog era are no longer suited for privacy threats we face in a digital world. Three decades later, we must update this law to reflect new privacy concerns and new technological realities, so that our Federal privacy laws keep pace with American innovation and the changing mission of our law enforcement agencies."
"When ECPA was enacted, email was primarily a means of communicating information, not storing it," said Senator Lee. "Today, we use our email accounts as digital filing cabinets, where we store many of the personal documents and sensitive information that the Fourth Amendment was meant to protect. This bill takes an essential step toward ensuring that the private life of Americans remains private."
Our wireless carriers told Sen. @MarkeyMemo they give police our data w/o a warrant. Sign this & demand #ECPA reform https://t.co/gfSWxXEXzj

— ACLU National (@ACLU) December 11, 2013
In line with the petition's goal, the proposed Electronic Communications Privacy Act Amendments Act of 2013 was intended to establish a search warrant requirement in order for the government to obtain the content of US citizens' emails and other electronic communications, when those communications are stored with a third-party server.
The bill would also eliminate the 180 day rule and require that individuals be notified within 10 days that their electronic communications have been disclosed. An amended version of the Leahy-Lee act cleared committee in April, but is yet to be voted on by the full 100-member senate. The House of Representatives would then have to submit and pass an identical or similar bill before the legislation could be proposed by the president.
Calls for reform have only intensified in light of revelations by NSA whistleblower, Edward Snowden, revealing details of the National Security Agency's dragnet surveillance programs.
In June, a White House petition demanding a full pardon for NSA Snowden reached the 100,000 signature mark in just two weeks. The petition went on to gather 142,084 backers.
The petition stated: "Edward Snowden is a national hero and should be immediately issued a full, free, and absolute pardon for any crimes he has committed or may have committed related to blowing the whistle on secret NSA surveillance programs."