Americans are afraid to take vacations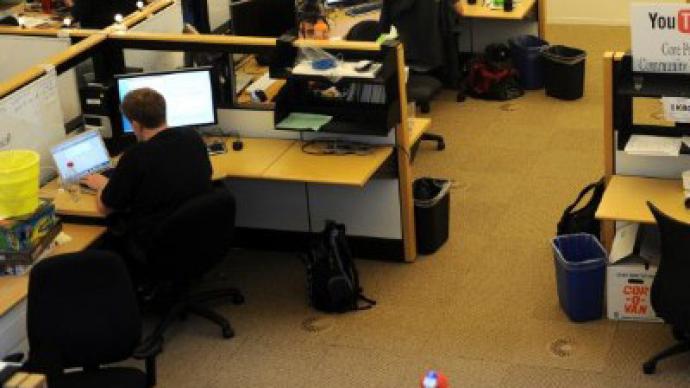 The White House's would-be success overthe unemployment epidemic came crashing today with the announcement that jobless benefit claims went up for the first time in six weeks.
Despite the administration assurance that jobs are returning, it couldn't be further from the truth.So dangerous is the employment market today that a recent study revealed that the majority of American residents with jobs refused to spend all their vacation days in 2011, worried that such action would prompt employers to consider their staff careless and can them from their positions.According to the workforce consulting firm Right Management, 70 percent of those surveyed said they entered 2012 without having used up their allotted vacation time. In some industries, such as air travel, employees seem petrified to put in time-off requests. A survey from inside the industry at Jet Blue Airways revealed that 70 percent of vacation time was never even claimed. "Whether this culture is real or imagined, employees everywhere are forsaking vacations and even family time for the primacy of work," Right Management Senior Vice President Michael Haid tells BusinessNewsDaily. During only his first ten months in the White House, Barack Obama saw the unemployment rate surge from only 7.8 percent in January 2010 to 10 percent that October. With the exception of last March, only the last three months witnessed America's unemployment statistic at a rate below 9 percent. Just when the administration ensured America that help was on the way, however, the Labor Department revealed on Thursday that unemployment claims were indeed surging again.As the unemployment epidemic remains a problem, so does the constant fear that any wrong move could cost workers their jobs. The latest study from Right Management may seem shocking, but in reality it is only the continuation of a trend that has been rampant during the last few years in America. A 2009 survey conducted by the travel site Expedia.com revealed that 34 percent of Americans left vacation days unused, and Right Management put their own statistic for that year at a more alarming 66 percent. A CareerBuilder survey in 2011 revealed that roughly one-in-six Americans couldn't find appropriate time to use their time off, and 30 percent said that even while on vacation they remain in steady contact with their employers. The latest polling from Right Management argued that the number is now much greater, however, with around 66 percent of workers now saying that they stay in touch even while out of town on company-paid time-off. Nearly one-in-three say that they even Skype or conference call in to meetings while away on vacation."You have this kind of fear of not wanting to be seen as a slacker," John de Graaf, executive director of Take Back Your Time, adds to BusinessNewsDaily. "They think, 'If I burn someone out, I can always find someone else,'" de Graaf said. "They think [employees] are expendable."Two years ago, the same was being said by worried workers while the stagnant unemployment rate's dire reality was beginning to set in. "What we've seen is that the economic climate has had a huge effect on people being willing to take vacations," Karen Sumberg, vice president and director of projects and communications at the Center for Work Life Policy, told Inc.com in January 2010. "Frankly, people were very scared that they were going to get laid off."On Thursday, the Labor Department said that seasonal layoffs led to an increased in unemployment benefit applications by the tune of around 24,000. The number of claims, 399,000, also brings up the four-week average, despite December 2011 seeing a three-year low in filings.
You can share this story on social media: