Desperate vet pawns his Purple Heart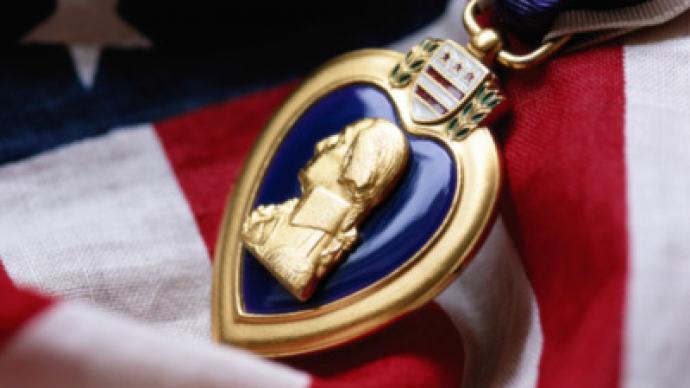 Beneath discarded DVD players and antiquated bass guitars sits in a peculiar item at in a Holland, Michigan pawn shop. An Afghanistan War veteran walked into the A-Z Outlet last month, handed the proprietor his Purple Heart and left with cash.
Bryan VandenBosch, owner of the East Michigan consignment shop, says the man had the same story that every other client comes in with. "He was short on funds," he tells the Holland Sentinel.The soldier, who has not been identified, came into VandenBosch's shop just shy of Thanksgiving this year in need of some holiday cash. While he has not spoken to the press at length of his service, he admitted to the Sentinel that a bullet ripped through his body while serving overseas and he earned two Purple Hearts for his courageous service to America.Since 1932, the honor has been awarded in the name of the US president to Armed Forces personnel injured in combat and in the past has been given to such notable vets as President John F Kennedy, Senator John McCain and former-Secretary of State Colin Powell.Holland VFW Post Commander Marcel Estrada has also been awarded the honors and adds to the Sentinel that everyone has a different take on the medal. While the veteran says he cherishes the award, with the country facing dire economic times, however, he could understand what would move the unidentified man to make such a decision.It must be a really extreme situation to do that," he tells the Sentinel, "but we have to respect his decision."A study published by the 100,000 Homeless Campaign earlier this year revealed that while fewer than one-in-ten Americans served their country, 15.2 percent of the country's population that lives on the street is composed of Armed Service veterans. Additionally, homeless veterans are 11 percentage points more likely to develop life-threatening illnesses while on the streets when compared to non-servicemen. "They are coming home to a disproportionate rate of homelessness, of foreclosures and evictions. In 2010 a whopping 75,000 Iraq and Afghanistan veterans in the United States were homeless; were sleeping on the streets," Iraq war veteran Michael Prysner tells RT. "They are coming home to an unemployment rate of about 30 percent for Iraq and Afghanistan veterans. This is triple the national average."In Michigan where the Purple Heart was pawned, veteran unemployment is higher than in any other state. VandenBosch adds to the Sentinel that despite offers for the medal, he is refusing to sell it until the soldier himself returns for it. "[In case] the gentleman wants it, it's never going to be sold," he says.