'Pepper spray cop' hoping for 'psychiatric' compensation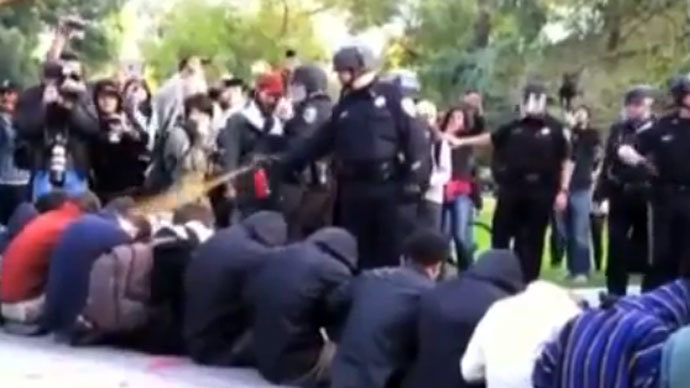 The California police officer who was filmed blanketing a group of peaceful Occupy protesters with pepper spray has filed for worker's compensation after experiencing psychiatric problems when footage of the incident went viral.
John Pike has a settlement conference scheduled for August 13 in Sacramento, according to the California Department of Industrial Relations.  
The video of Pike spraying protesters during a 2011 demonstration at the University of California was quickly posted to social media and soon became a rallying point for international Occupy movements. The images depict Pike calmly dispersing pepper spray on roughly a dozen protesters who are seated in a line on the ground and seemingly presenting no threat to police. Multiple other officers are shown pushing back protesters. Demonstrators can be heard emitting a sudden gasp as Pike brandishes the pepper spray can in a dramatic flourish. 
Pike was placed on administrative leave before being fired in July 2012 - eight months after a task force found that his action was unwarranted, according to AP. The Oakland police first described the pepper spray incident as a "non-confrontational strategy." 
Pike is expected to now claim that he was subjected to internet threats and psychological injuries after the footage was published online. 
Protesters can be heard on the video shouting "What's your name?" before turning the camera on Pike's name tag and identifying him for the audience. Hackers then publicized Pike's personal information and shared it widely across the internet. 
The Los Angeles Times and Sacramento Bee have pressed the police to reveal the names of the other officers shown in the video, after their identities were redacted from two reports on the incident. An Alameda County Court judge ruled against disclosing the names, however, in order to avoid putting the officers in potential danger. 
This week, a California state appeals court ruled that media organizations are entitled to learn the identities of the officers who were interviewed about the use of pepper spray in the 2011 rallies. 
Annette Spicuzza, then the UC Davis police chief, was also forced to step down in the wake of public outrage following the incident. She told the local Fox affiliate that it would be unnecessary to release the names of officers who were interviewed about the incident but not responsible for Pike's action.
"I didn't make that decision, I didn't know it had occurred," she said. "If I have any regret out of the entire situation it's that we never had an opportunity to make it right…I had to leave the state for a month because of death threats and fear for the safety of my family. I've lost my home, lost my name, lost insurance. If these people wanted me to suffer they got their wishes."