Pentagon flags tens of suspicious emails in General Allen's investigation
A Pentagon investigation into the flirtatious correspondence between Marine Gen. John R. Allen and socialite Jill Kelley has yielded about 60 to 70 personal e-mails that "bear a fair amount of scrutiny".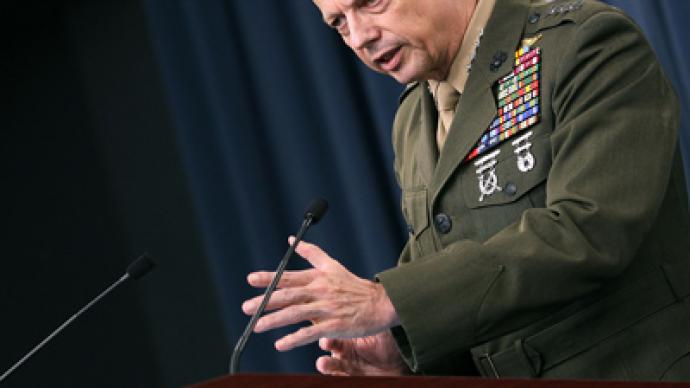 Investigators have read hundreds of e-mail exchanges between Gen. Allen and Kelley to determine if there are any security violations. While so far no such violations have been discovered, an anonymous defense official told the New York Times that at least half a dozen e-mails could be considered "embarrassing".The Gen. Allen investigation followed an FBI investigation into anonymous threatening e-mails Kelley received from Gen. David Petraeus' mistress and biographer, Paula Broadwell. Upon uncovering questionable correspondence between Gen. Allen and Ms. Kelley, the FBI "forwarded the evidence" to the Pentagon, which is now looking for violations of misconduct ranging from inappropriate language on a government computer to adultery to use of government property for personal matters. Most alarming to the Pentagon would be evidence of a possible security breach.Gen. Allen, the top NATO commander in Afghanistan, was recently appointed to become the NATO supreme allied commander in Europe. But the Pentagon investigation, which could take months to complete, is stalling his appointment. Usually an investigation of that nature is conducted by two or three Pentagon staff and takes around seven months to complete, but some 15 investigators are working day and night on the Gen. Allen inquiry. Still, the defense official told the Times that it is unlikely for the inquiry to be completed in 2012.The defense official also noted that so far, no evidence of security violations has been found in the correspondence. But while Gen. Allen has denied having an affair with Kelley, the flirtatious e-mails may prove otherwise. The e-mails that have been discovered so far have been described as "sexually explicit" by one law enforcement officer and "embarrassing" by Pentagon officials briefed on the matter. Typical language used in the e-mails includes phrases like "you're a sweetheart".The Times report comes a day after Kelley's lawyer, Abbe Lowell, released e-mails and telephone recordings that are meant to prove Kelley never tried to exploit her friendship with Allen or Petraeus or engaged in any affairs.But even if no evidence of security violations is found, any indication of adultery could put the general's job on the line. Military law prohibits adultery and reserves the right to court martial violators. High-ranking officials who engage in an extramarital affair may face dishonorable discharge and one year imprisonment.
You can share this story on social media: