Pentagon investigating helicopter deals with Russian, American contractors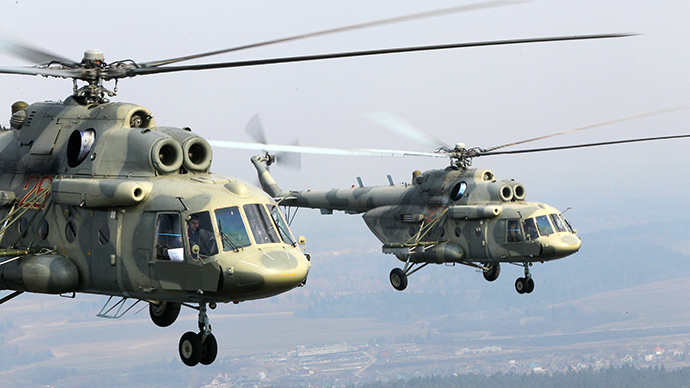 US military officials have launched a criminal investigation into an army unit that granted contracts worth tens of millions of dollars to Russian and American contractors that revamped Russian made helicopters, according to a new report.
The Pentagon's Defense Criminal Investigative Service is seeking to determine whether army aviation officers made inappropriate payments to contractors, and if the two parties have improper personal relationships, according to Reuters. The news was first reported on Thursday, although no charges have yet been filed. 
The US Department of Defense routinely purchases the Russian-made Mi-17 helicopters. Those choppers are then overhauled and sent to the Afghan Air Force, a method the Pentagon claims is the best way for the Afghan military to assert itself before the final US troops leave next year. 
A recent Pentagon budget allotted approximately $1.1 billion for a round of the helicopters. Authorities are now examining why the unit cost for a single Mi-17 has increased so drastically in such a short span of time, from $10.5 million in 2009 to roughly $19 million today. 
Phill Lavelle, a spokesman for the Special Inspector General for Afghan Reconstruction (SIGAR), told Reuters the criminal probe is "in the preliminary stages" and SIGAR "is working with other federal agencies relating to the purchase of Mi-17 helicopters for the Afghan government." 
Rosboronexport, the state-owned Russian arms dealer, is not suspected of any wrongdoing, although US congressional leaders have demanded that the US stop dealings with the manufacturer because it supplies arms to Syrian President Bashar al-Assad. Anatoly Isaikin, general director of Rosboronexport, previously told Russia's Interfax news agency that Congressional lawmakers' wariness "is a vivid example of lobbying for the national industry's interests." 
Lawmakers addressed an August 5 letter to General Martin E. Dempsey, chairman of the US Joint Chiefs of Staff, writing of their "deep concern over your support for the ongoing Department of Defense procurement of helicopters from Rosoboronexport" because of a "real life risk of both Russian corruption in these deals and overreliance on a potentially hostile power." 
The criminal probe, which could doom the Defense Department's Mi-17 program, was initiated because of a 2012 audit by the Pentagon inspector general. The audit found that Avia Baltika and St. Petersburg Aircraft Repair Co. (SPARC) – independent arms dealers not under Rosoboronexport's control – refused access to quality assurance inspectors to their overhaul facilities. Military officials were also overcharged for parts and repairs on the aircraft, breaking a prior agreement. 
"As a result AVB/SPARC aircraft overhaul took 12 to 20 months longer than planned, failed to identify unsanctioned parts that must be replaced, and cost the US government $16.4 million in unnecessary costs," stated the summary of the inspector general's report. 
The full audit has not been released to the public, but a Reuters review of the document said the audit "identified questionable transactions" in connection with AVB and SPRAC.