'Largest hack' in Chinese history has Beijing stumped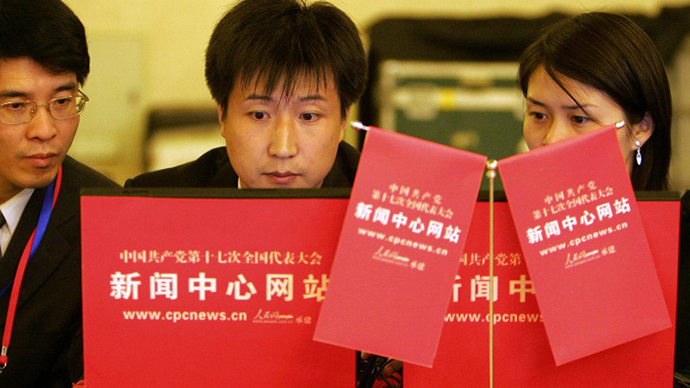 A massive section of the Chinese Internet was knocked out Sunday in what authorities are calling the "largest hack in China's history." The attack has security experts at a loss and unable to determine the origins of the cyber-assault.
The China Internet Network Information Center (CNNIC) reported the outages Sunday. The government institution said they were the result of twin denial-of-service (DDoS) attacks occurring in close succession, starting at 2:00am local time (6:00pm GMT). The second attack was "long-lasting and large-scale," Chinese state media reported.

The CNNIC apologized to Internet users throughout the country and is still speculating over the possible causes.

"It's just another example that China does indeed have its own enemies who attempt to disrupt its Internet operations," Jeffrey Carr, CEO of cyber security firm Taia Group, told the Wall Street Journal. "Such enemies include hackers from Taiwan, India, Tibet, the Middle East and, of course, the United States."

Carr added that DDoS attacks are relatively easy to pull off and "can be as simple as downloading a free tool like Anonymous's LOIC product."

In essence, DDoS attacks work by overloading a network with millions of requests and causing it to crash.

China has often been accused of orchestrating massive DDoS hack attacks of its own. In the first quarter of 2013, China was listed as the top source country for such attacks, according to a survey by security vendor Prolexic. The US ranked second on the list.

Earlier this year, Washington and Beijing both accused each other of large-scale cyber-espionage. The US government issued a stern warning to the Chinese over so-called "cyber-intrusions," some of which Washington traced back to the Chinese government and military.

Beijing responded, claiming it had "mountains" of data on US hacks into its systems, but added that pointing fingers was not "helpful in solving the problem."

The conflict was further fueled by former CIA employee Edward Snowden's leaked files that detailed mass US hacks on the Chinese.

"The NSA does all kinds of things, like hack Chinese cellphone companies to steal all of your SMS data," Snowden was quoted as saying on the South China Morning Post's website.

The documents showed the US National Security Agency had been hacking mobile operator networks and intercepting millions of text messages.

The former NSA contractor reportedly provided the paper with documents detailing specific attacks on computers over a four-year period, including Internet Protocol (IP) addresses, dates of attacks and whether a computer was still being monitored remotely.

You can share this story on social media: