NASA sells platforms that launched Apollo missions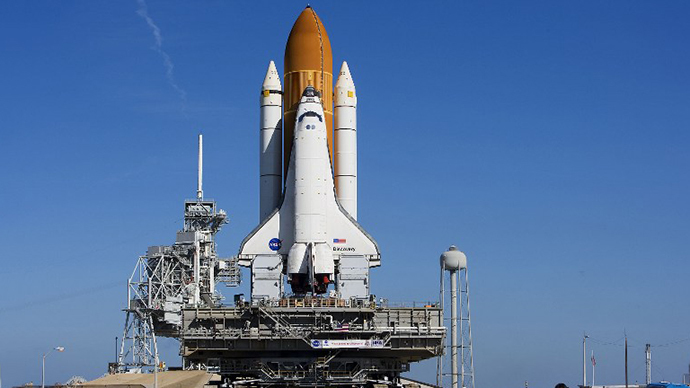 Two competing space travel companies backed by internet billionaires have placed bids on a renowned space shuttle launchpad at Kennedy Space Center. NASA is turning over its infrastructure to private sector contractors that will perform future launches.
NASA plans to sell most of the terminated space shuttle program's infrastructure at Kennedy Space Center to individual space exploration companies. After the final launch of the Atlantis shuttle on July 8, 2011, 'America's Spaceport' remains practically deserted with no launches scheduled until 2017, so NASA seeks to lease or sell the facilities it has accumulated.
 
The Launch Complex 39A pad, which has been standing idle for two years, is going to be sold along with a shuttle landing runway and three launch-ready spacecraft transporters.
 
"At this point NASA is looking to gauge interest for potential use of the [platforms] and concepts for potential use," NASA spokeswoman Tracy Young announced recently.
 
Proposals for the shuttle launch platform are due by September 6 and NASA is currently assessing two competing bids. One of those bids is from Space Exploration Technologies - also known as SpaceX, which was co-founded by PayPal's Elon Musk. The other interested party is Blue Origin, a space startup owned by Jeff Bezos, the founder of Amazon.com.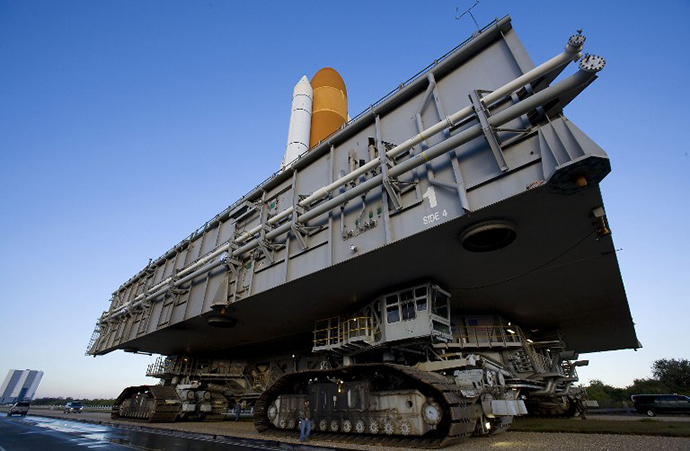 SpaceX needs 39A to launch its Falcon 9 booster and next generation Falcon Heavy rockets. The company has already made several successful launches from a leased launchpad at Cape Canaveral Air Force Station, situated just south of the Kennedy Space Center. In September, its Falcon 9 rocket will be launched from a new location, a launchpad at Vandenberg Air Force Base in California.  
Privately owned company SpaceX, which was founded 11 years ago, has already successfully launched its Dragon cargo ship to the International Space Station (ISS) and plans to develop it into a manned space vehicle.
SpaceX wants Launch Complex 39A all for itself, believing that adopting a complex for various customers would be excessively expensive. They also plan for an expansion of their activities and a tight launch schedule in the future. NASA currently pays US$1.5 billion to Russia's Roskosmos space agency to deliver astronauts to the ISS - and SpaceX is preparing to do the same.  
Meanwhile, Blue Origin startup, which was founded in 2002, wants to run the launchpad at Cape Canaveral as a multi-user facility. Jeff Bezos' company is backed by United Launch Alliance, a Boeing/ Lockheed Martin partnership that currently enjoys a monopoly on US military satellite launching and for which SpaceX is a direct rival. 
Both companies assure they can be trusted with the site's maintenance, beginning on October 1.

The operator of shuttle's runway at Kennedy Space Center will be state-backed economic development agency Space Florida. The agency intends to make it available for commercial space exploration companies that develop space capsules that can make planes land like a space shuttle.

Right now, at least two space projects are under development. One of those is the suborbital two-person Lynx spaceship, which is being designed by XCOR Aerospace Company. The second is a returnable orbiter program by Stratolaunch Systems Company, which is owned by yet another IT billionaire, Microsoft co-founder Paul Allen.
 
With 82 missions launched between 1981 and 2011, the space shuttle program infrastructure remains in good condition and still holds large modernization potential. Exactly for that reason, another shuttle pad - Launch Complex 39B - is likely to be reserved for NASA's future heavy rocket program Space Launch System, due to deliver the Orion deep space capsule into space after 2017.
 
The three transporters on sale are nearly half a century old, as they were originally designed for Saturn rockets of the Apollo moon program. But even today, the platforms, are launch-ready.
 
Mounted on crawler tracks, huge steel constructions measuring 49 x 41 meters and about 7.6 meters high were built in 1967 to move spacecrafts from an assembly facility to the launchpad. Years later they were modified for transporting space shuttles.
 
Equipped with all necessary electronic command, electric supply, and umbilical connections, they could be highly beneficial for any space launch startup, preventing them from having to build a new one from scratch.
You can share this story on social media: