Pentagon mishandled 65,000 Arlington cemetery graves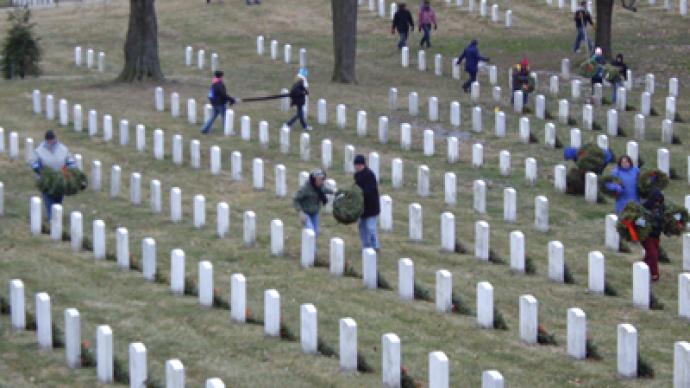 Across the Potomac from downtown Washington, Arlington National Cemetery exists as national shrine to the history of freedom.
The vision of the historic burial grounds, they write, is to establish a place "where dignity and honor rest in solemn repose."Where exactly that resting spot is, however, is now up for questioning. An audit of Arlington has revealed that as many as 64,000 graves in the Northern Virginia cemetery may contain mistakes, with problems ranging from misspelled names all the way to misplaced bodies. The news comes following an investigation by the US Army to answer allegations of misconduct last year at Arlington. Two of the cemetery's top executives were released from their position after reports of misplaced graves surfaced last year, but the actual results of the review now show that an overwhelming amount of graves in Arlington have been managed with error. The Gravesite Accountability Task Force found 196,000 cases of "no discrepancies" in their report, but found 64,230 instances where they will have to conduct "additional review," which the Associated Press writes will be completed next summer. In all, Arlington has around 300,000 people entombed on its grounds, a quarter of which are now in question because of the results of the audit.Democratic Senator Claire McCaskill, an opponent of the earlier Arlington administration that he blames on the mismanagement, adds to the AP that the change in staff is leading to a "comprehensive reform" and that errors at Arlington are on their way to be remediated. Sen. Mark Warner (D-Va.), however, tells the Washington Post that a quick-fix might not be as speedy as cemetery execs think. "We don't know about this 25 percent — are they typos? Do they have remains in the wrong graves?" he asks. "This raises as many questions as it answers."At least an effort is being made to entomb the veterans with respect, it would seem, albeit a small one. On the bright side, it is an improvement of how things have been done at Delaware's Dover Air Force Base, where the remains of most of America's military dead pass through after returning from Iraq and Afghanistan. A recent report at the base's mortuary revealed that the Pentagon let Dover dump the remains of nearly 300 bodies in a landfill in suburban Virginia.