Senate refuses abortion rights for rape victims in the military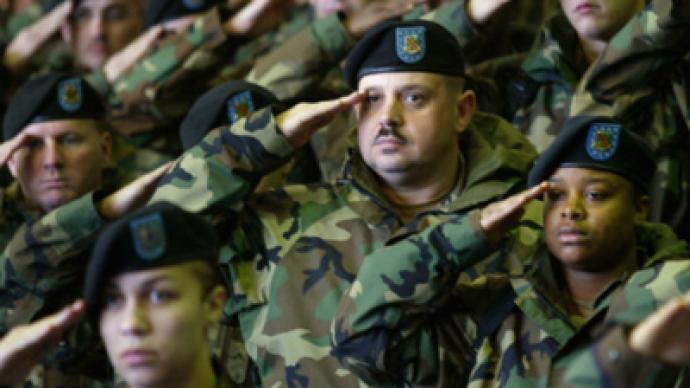 In addition to turning America into a warzone and allowing indefinite torture and detainment for US citizens, Congress this week decided that women raped while serving their country won't be provided coverage for abortions.
The military, it turns out, is pro-life.Despite one-in-three women in the military saying they've been sexually assaulted while serving their country, the Senate decided to skip over voting for an amendment which would have allowed rape victims coverage for abortion. While civilians employed by the US government are given such protection, coverage is not granted in the US military. Senator Jeanne Shaheen (D-NH) hoped to change that with an amendment tacked on to the National Defense Authorization Bill, but on Wednesday the Senate decided to move pass the legislation without bringing it up for vote.Congress did, however, agree to make some changes while voting for the act for Fiscal Year 2012. Should President Barack Obama approve the National Defense Act, sodomy and bestiality in the armed forces will be legalized and Americans can be detained and tortured indefinitely for suspected terrorism crimes without ever being charged.Sen. Shaheen's amendment would have lifted the ban on military insurance coverage for victims of rape and incest that sought abortions. Past legislation had granted such coverage, but it was dropped back in 1984. The current law, enacted in 1996, keeps DoD medical personnel from performing abortions and another provision keeps Pentagon funds from covering the procedure except in cases where it threatens the life of the mother. "This policy is fundamentally unfair to the more than 200,000 women serving in our military," Shaheen said this week. "They are fighting to protect our rights, and they should have the same rights to reproductive health care as our civilian employees.""I'm very disappointed that we will not have a chance this week to debate this critical issue," Shaheen tells Huffington Post,"but we'll keep fighting for it as long as we have to." As Shaheen and other activists continue that fight, thousands of women are sexually assaulted annually in the military. The Department of Defense reveals that in Fiscal Year 2010, 3,000 sexual assaults were reported within the ranks of the armed forces, a quarter of which it lists as rape. Coincidentally, the Federal Bureau of Investigation voted this week to alter their current definition of what constitutes rape, broadening it to include sexual assaults involving penetration not currently contained within the text.The DoD adds that while the number of reported rapes are substantial, close to 90 percent of rapes are unreported. Compared with civilian life, rape within the military is nearly double.
You can share this story on social media: