Anonymous 'PayPal 14' hackers enter guilty plea in case surrounding pro-WikiLeaks DDoS attack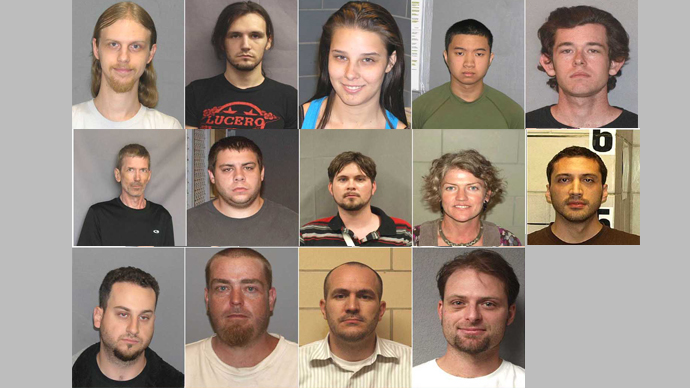 ​Accused members of the amorphous hacktivist group Anonymous appeared in federal court in California on Thursday to enter pleas pertaining to a nearly three-year-old digital protest against the website PayPal.
The defendants — who admitted to participating in an Anonymous-led operation that momentarily took PayPal.com offline in late 2010 — entered guilty pleas before a judge in the United States District Court for the Northern District of California early Thursday and will be formally sentenced in one year.
Eleven of the so-called "PayPal 14" members each pleaded guilty in court to one felony count of conspiracy and one misdemeanor count of damaging a computer as a result of their involvement in a distributed denial-of-service (DDoS) attack waged by Anonymous in late 2010 shortly after PayPal stopped processing donations to the anti-secrecy group WikiLeaks. Prosecutors say the defendants used a free computer program called the Low Ion Orbit Cannon, or LOIC, to collectively flood PayPal's servers with tremendous amounts of illegitimate internet traffic for one week that winter, at moments knocking the website offline as a result and causing what PayPal estimated to be roughly $5.5 million in damages.
WikiLeaks had started to release a trove of classified US State Department diplomatic cables that November, prompting PayPal to revoke the whistleblowing group's account due to an alleged terms-of-service violation. On their part, WikiLeaks claims PayPal installed the equivalent of an illegal financial blockade by refusing to process contributions. Combined with similar actions taken by Visa and Mastercard at the time, the transparency organization said the blockade cost an estimated $250 million in losses in the years since.
@apblake@pierre A distraction from complicity in the blockade, which cost us millions (say $250m, inc growth). Small first step? We'll see.

— WikiLeaks (@wikileaks) December 4, 2013
Pending good behavior, those 11 alleged Anons will be back in court early next December for sentencing, at which point the felony charges are expected to be adjourned. Two of the remaining defendants cut deals that found them pleading guilty to the misdemeanor counts only, likely removing themselves from any lingering felony convictions but earning an eventual 90 day jail stint when they are finally sentenced. A fourth defendant, Dennis Owen Collins, did not attend the hearing due to complications involving a similar case currently being considered by a federal judge in Alexandria, Virginia in which he and one dozen others are accused of conspiring to cripple other websites as an act of protest during roughly the same time.
Speaking to RT from the courthouse in California Thursday afternoon, defense attorney Stanley Cohen said the terms of the settlement were reached following over a year of negotiations, "based upon strength, not weakness; based upon principle, not acquiescence."
"It did not involve cooperation and did not involve any of the defendants renouncing their conduct," Cohen said by phone. "They all stood up and said, 'We did what you said we did . . . We believe it was an appropriate act from us and we're willing to pay the price.'"
With regards to the newly scheduled sentencing now slated for Dec. 4, 2014, Cohen said it's comparable to what's referred to as deferred prosecution in some jurisdictions. "Here, at the head of the day if everything works out fine, the defendants are going to get a misdemeanor."
"If there are no new arrests at the end of the year, the felony is dismissed," Cohen said. "The misdemeanor is left in piece and people will essentially get conditional discharges at that point with restitution in the amount of $5,600 for each person."
When multiplied by 14, those restitutions add up to just under $80,000 — only a fraction of the $5.5 million PayPal claimed the digital disturbance cost their site. Nevertheless, in an op-ed published by Huffington Post days before the hearing, Pierre Omidyar — the founder of PayPal's parent company, eBay — implored the court for leniency and said, "In my view, they should be facing misdemeanor charges and the possibility of a fine, rather than felony charges and jail time."
Cohen, who represented PayPal 14 defendant Mercedes Haefer in court, said one of the hacktivists told him after Thursday's hearing concluded that "This misdemeanor is a badge of honor and courage."
You can share this story on social media: