Anonymous members arraigned in 'Operation Payback' case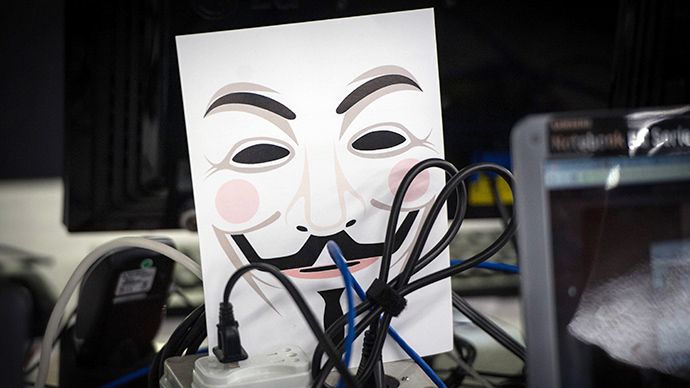 The United States government pressed forward Friday afternoon with its case against 13 alleged cybercriminals accused of conspiring to take down government and corporate websites as part of an anti-censorship campaign waged by the Anonymous movement.
US Federal Judge Liam O'Grady arraigned Austen L. Stamm and Dennis Owen Collins Friday afternoon from a courtroom in Alexandria, Virginia near Washington, DC. The two defendants are accused of cooperating with 11 other individuals in 2010 and 2011 of participating in "Operation PayBack," an initiative led by the Anonymous hacktivist collective that targeted the websites of entities committed to protecting copyrighted material.    
Both men pleaded not guilty.
An indictment unsealed earlier this month accused the alleged "Anons" of taking part in a "worldwide conspiracy" targeting groups that conflicted with the hacktivists' "stated philosophy of making all information free for all."
During the operation, the websites of the Recording Industry Association of America (RIAA), Motion Picture Association of America, US Copyright Office and others were momentarily taken offline by way of distributed denial-of-service, or DDoS, attacks. That tactic involves overloading a website's server with irrelevant traffic that causes the site to buckle under an information overload and thus prevents legitimate users of navigating through the site.
The defendants, since dubbed the "PayBack 13," were charged with one count each of conspiring to intentionally cause damage to a protected computer, which carries a maximum sentence of five years.

Collins, an Ohio man in his early 50s, is currently a co-defendant in a nearly identical case underway in the Northern District of California that revolves around an Anonymous-led operation that targeted PayPal in response to the site's refusal to process donations made to WikiLeaks.

Dressed in a long-sleeved navy blue shirt beneath a buttoned plaid top, Collins entered O'Grady's chamber with a slight limp just after his 2 p.m. appointment was scheduled to begin Friday afternoon. A medical apparatus connected to a series of tubes went up the back of Collins' head and over his ears into either nostril, and when he approached the bench with his lawyer, John Kiyonaga, he spoke in a deep voice every time the judge asked him if he understood the nature of the case. Collins is the second oldest co-defendant in the case — all other accused Anons are in their 20s with the exception of 65-year-old Geoffrey Kenneth Commander from New Hampshire.

O'Grady ordered a $25,000 unsecure bond for Collins, and said the defendant is barred from traveling out of Ohio unless required as part of his legal matters currently underway in Virginia or California. He also said Collins is forbidden from making contact with any witnesses, victims or co-defendants, and can't access any computer connected to the Internet without receiving permission first.

Less than an hour earlier, O'Grady told Stamm — a tall, slender man of maybe 25 — that he would be subjected to similar conditions during the duration of the trial.

Kiyonaga and Stamm's attorney, Jessica Carmichael, both agreed to waive their clients' right to a speedy trial given the large amount of information that has already been cited in the indictment.

"It is my understanding that this case is fairly complex," Carmichael told the court.

O'Grady agreed that that there had been a significant amount of discovery obtained through investigation so far, and twice acknowledged the complexity of the case before the court. Indeed, the "PayPal 14" case involving Collins and more than a dozen others in California is still underway more than two years after those defendants were first indicted.

Attorneys for the PayBack 13 are expected back in Alexandria next Friday morning to establish the start to what's expected to be a lengthy ordeal. Meanwhile, Collins and his cohorts in the PayPal case were expected to resolve that matter in California at the end of the month, but that hearing is reportedly being considered for a different date.

Wade Carl Williams, a co-defendant in the Collins and Stamm matter, reportedly went before a different judge Friday afternoon at Eastern District Court in Alexandria along with two other accused cybercriminals.

You can share this story on social media: