Ron Paul tied with Romney and Obama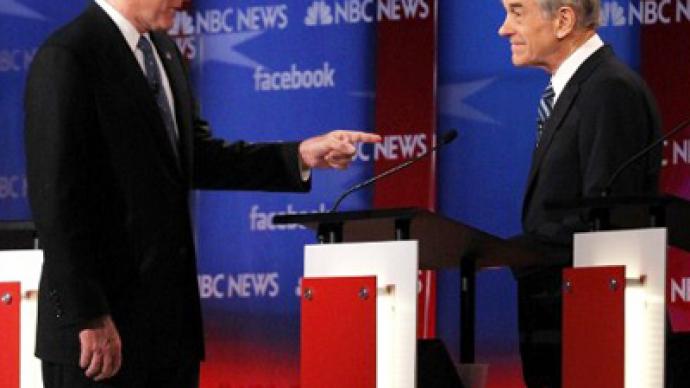 Republican voters still have time to consider who they want to take on President Obama in November, but according to recent polling, only two members of the GOP stand a chance at bringing down Barack.
Just before the five remaining Republican Party candidates debated in Myrtle Beach, South Carolina Monday night, the results of a new poll conducted by CNN in conjunction with ORC International were released, and it amplifies what other surveys have suggested in recent weeks: on the right, Obama's only opponents right now are Mitt Romney and Ron Paul.If the 2012 election was held ten months early today in January, the results of the CNN/ORC poll suggest that Texas Congressman Ron Paul and former Massachusetts Governor Mitt Romney are the only viable candidates to go up against current US President Barack Obama. While Romney has been considered the GOP frontrunner since he started his campaign, an ongoing surge in support for the libertarian leaning Texas congressman has in recent weeks propelled him to the top-tier and made him a favorite among Republican voters. After a strong finish at Monday night's Myrtle Beach debate, any more acceleration could easily put Paul above Romney in the race to Washington.In the latest poll, published Monday, a poll of 1,021 registered voters say that in a two-person race, there is a 48 percent chance that they'd put Romney in the White House, while only 47 percent say they'd endorse Barack Obama for another term. If the candidates up against one another were Obama and Congressman Paul, the latest polling suggests a statistical tie, with Obama claiming 48 percent to Paul's 46. It should be noted, however, that in both hypothetical races there is a 3 percentage point margin of error.Shortly before the New Hampshire primary, where Paul soared to a second place finish behind Romney, a separate poll out of CBS also put Paul neck-and-neck with President Obama, once against putting the match up at a statistical dead heat. From Myrtle Beach on Monday, Paul largely emphasized his foreign policy stance and willingness to bring troops home and create military bases in America rather than continue with expansions overseas. Paul noted that the US has forts in 130 countries internationally and despite ending the war in Iraq, still has an impressive presence in Baghdad. Romney, only hours after being endorsed by former contender Jon Huntsman, was largely the target of the competition Monday, attacked by his fellow candidates throughout the evening, particularly Rick Santorum, who came within a handful of votes of beating Romney earlier this month at the Iowa caucus. The GOP contenders will debate once more in South Caroline before the state holds the next presidential primary.
You can share this story on social media: