Rand Paul goes after Gingrich and Romney
Published time: 12 Dec, 2011 20:25
Edited time: 13 Dec, 2011 00:25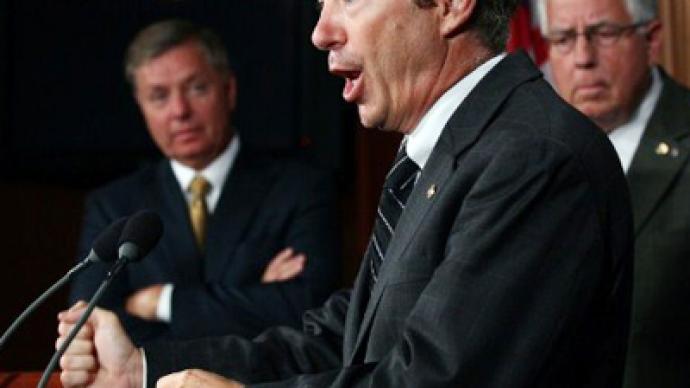 With the mainstream pegging Newt Gingrich and Mitt Romney as the top two candidates for the Republican Party's nod for 2012, Senator Rand Paul urged voters in an Iowa newspaper editorial this week that they shouldn't be fooled.
According to the senator from Kentucky, those frontrunners might be running as conservatives, but they don't act like them.
In an op-ed published December 8 in the Des Moines Register, Senator Paul — son of White House hopeful Representative Ron Paul — cautions voters that the two candidates that they are being fed as the most likely to capture the Republican Party's nomination are serial flip-floppers that don't embody ideals held by the rest of the GOP.
"I want to elect a president who will defend the ideas of constitutional conservatism and limited government," writes Paul. "Unfortunately, while all Republican candidates would be an improvement over the present administration, two of the current frontrunners simply do not represent the tea party, the conservative movement or the type of change our country desperately needs in 2012."
In his scathing editorial, the senator attacks Romney and Gingrich for their support over the $700 billion TARP bailout and for endorsing an individual mandate for health coverage like ObamaCare. Recognized as one of the biggest politicians with ideals embodied by the Tea Party, Paul writes that Gingrich and Romney's track record with those two topics alone disqualifies them from support of the party.
Paul also calls out the former Massachusetts governor as a "don't-rock-the-boat-Republican" afraid of bringing forth any change that would alienate him from his audience, and labels the campaign of the ex-House speaker as one that tries to sell a bill of goods to GOP voters. "Gingrich began his career as a Rockefeller Republican from the liberal wing of the party," writes Paul, "And though he has often spoken and occasionally acted like he left that wing, it is clear from his flip-flops and multiple "apologies" that his heart is still there."
"Gingrich is not from the tea party. He is not even a conservative," adds Paul. "He is part of the Washington establishment I was sent to fight. He has been wrong on many of the major issues of the day, and he has taken money from those who helped cause the housing crisis and create millions of foreclosures."
Particularly, Paul attacks Gingrich from collecting money through Freddie Mac shortly before the housing market collapsed. The candidate has repeatedly brushed off allegations that he lobbied for the lender, instead insisting that he offered "strategic advice."
For those wondering where Senator Paul got his drive to take after the former House speaker, one doesn't have to look too much further than his own dad. Republican presidential hopeful Ron Paul has unleashed a new advertisement himself this week in which he goes after Gingrich for being unethical and hypocritical on his political stances.
"These are all legitimate and important issues to point out to the American people," Ron Paul 2012 National Campaign Chairman Jesse Benton says of the clip in a new press release. "If Americans are serious about changing the status quo in Washington, then they must take into account the record of someone who profited from the housing collapse with taxpayers' money, advocated for Obamacare-style individual mandates and who played the Washington game of getting rich due to influence as well as anyone."