Koran-burning pastor Terry Jones barred from Canada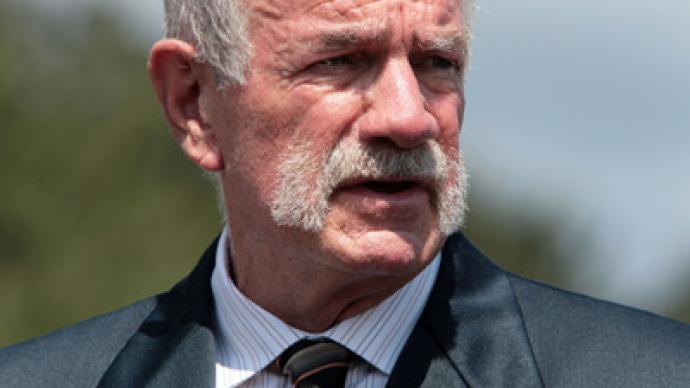 The US pastor who hosted "International Burn a Koran Day" had his anti-Islam signs seized and was denied entry in Canada on Thursday.
Florida Pastor Terry Jones, 60, announced two years ago that he would burn 200 Korans on the ninth anniversary of the Sept. 11 terrorist attacks. Although he did not burn the holy Islamic books that day, he burned copies of the Koran in March 2011 and in front of his church in April 2012.On Thursday Terry, together with fellow pastor Wayne Sapp and his wife Stephanie Sapp, had planned to attend Freedom Showdown, an inter-faith debate outside of the Ontario Legislature. Jones had been invited to speak on the lawn concerning the topic, "Islam is not compatible with Western society." The event was in response to the controversial YouTube video, "Innocence of Muslims," which sparked protests throughout the world.Canadian officials at the Windsor border detained Jones for charges received in Detroit and a fine received in Germany. Nearly twenty years ago, Jones received a fine in Germany for giving himself the title "doctor," even though he had received an honorary doctorate in 1993.Jones and Sapp had also been charged with breaching the peace at a rally in Detroit outside of the Islamic Center of America in early 2011, which further prevented their ability to enter Canada.Although Jones claimed he paid the German fine and had the Detroit case overturned in a higher court on appeal, border officials refused to let him through without government documentation of the cases."We consider this to be a grievous blow to freedom of speech," Jones said in a statement reported by the Associated Press. "We hope that this is a lesson for the Canadians and the Americans for us to stand up, unite together and protect our freedom of speech."At the Canadian border, the pastor had his car and luggage searched. Border officials confiscated anti-Islam signs found in his car, which read "Islam is the New Nazism" and "Koran Burning Site."Since Canada had no laws barring someone for "the public good," thereby leaving entry up to the discretion of border officials, Canadian authorities prohibited entry based on previous charges.Fran Ingram of Stand Up America Now, an organization that promoted Jones' right to free speech, said the reasons for denied entry are an excuse to keep out the controversial religious figure."So this old German charge that they dug up was long ago overturned, it's a very old issue … it's this old thing that they pulled out of their bag of tricks, I guess and said this is why we are denying you entry," Ingram told the National Post.But Canada is not the only country that prohibited Jones' entry. The British Home Secretary Theresa May banned the pastor from ever stepping foot in the United Kingdom, after he had been invited to give a speech there for the right-wing group, England is Ours. Germany had also prevented Jones from entering the country for a screening of "Innocence of Muslims" last month.
You can share this story on social media: