Florida book-burning and media hysterics: the devil is in the details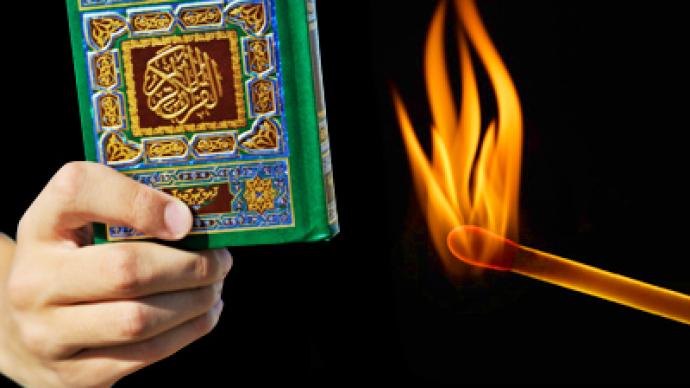 If the village idiot pulls into town with an "International Burn Koran Day" banner attached to his vehicle, should such an act be considered worthy of a news story?
­The demons that have been haunting the mind of Pastor Terry Jones finally escaped into the open on March 20 when he supervised the burning of a Koran on the grounds of his tiny Florida church. As was to be expected, the sad spectacle was quickly picked up, hurled into the Internet pipeline, and transformed into a "news-breaking story." Should we have expected anything less? In these days of non-stop sensationalism, as "shock and awe" is quickly killing "sober and relevant," and the lines between entertainment and news are blurred, the Internet guarantees every loose cannon his 15 seconds of infamy regardless of the potential consequences.And the consequences of this media stunt were, and continue to be, extraordinarily high.Following Friday's prayer services, thousands of Muslim demonstrators poured into Afghanistan's northern city of Mazar-i-Sharif and stormed a UN compound, killing 8 UN staff employees. Two of the eight foreign workers were beheaded.The head of the UN Assistance Mission in Afghanistan (Unama), Staffan de Mistura, said during a visit to Mazar-e Sharif that the only person who could be blamed for the violence, which by Monday afternoon had still not abated, was the American pastor."I don't think we should be blaming any Afghan," de Mistura argued. "We should be blaming the person who produced the news – the one who burned the Koran. Freedom of speech does not mean freedom from offending culture, religion, traditions."But shouldn't the media also share some of the responsibility for the violence, since they are responsible for giving a failed church leader an international pulpit from which to spew his demented beliefs?Who is Pastor Terry Jones, and should we care?Jones, 58, is a fundamentalist pastor and "spiritual leader" of the Dove World Outreach Center, based in Gainesville, Florida, which has just about as many members as there are letters in the church's name. More importantly, however, is that the religious center, despite its already minuscule congregation numbers, was in a state of steady decline before the book-burning incident.In 2004, when Jones took over as senior pastor of Dove World, it had approximately 100 members; by September 2010, the church reported a 50 per cent drop in its membership, although even that number seems exaggerated. Indeed, only a dozen people were reportedly in attendance at the infamous Koran burning.Why does the US media deem it fit to provide Pastor Terry Jones and his tiny church so much gratuitous coverage? After all, there are daily protests in Washington D.C. that attract more people than the entire congregation of this one-time irrelevant congregation.Furthermore, a cursory review of Terry Jones' life work to date suggests that he is far better at attracting controversy than he is at attracting congregation members. In fact, judging by the 50 per cent decrease in his parishioners since becoming pastor, it may be worth asking if this well-managed media stunt, which has led to the tragic death of eight UN workers, was done specifically for saving Dove World from financial ruin.It is important to note that Jones assumed the leadership of Dove World in 2008 after his German church went out of business. So what is a failed Florida preacher to do when his tiny flock is fleeing and bills are going unpaid? Why not burn the Koran, the holy book of over 1 billion Muslims worldwide, thus gaining international notoriety and tons of free publicity courtesy of the US media? Although it is impossible to understand what is really going on inside of the holy pastor's mind, it seems that the media was only too willing to oblige Jones in promoting his demented gospel. Pastor Jones, however, insists he is not in it for the "fireworks.""We're not in this for the fireworks; we're not in this for the show," said Terry Jones' son, Luke Jones, who is a priest at the church. "We're not going away."Jones threatened last year during the anniversary of the 9/11 terrorist attacks to burn copies of the Koran, but "changed his mind."So the question is: why did the media give air time to such hateful individuals, which only serve to aggravate relations between Muslims and Christians? Should one lone nut be permitted to wreak so much global havoc?Certainly many people do not think so."It pains me to see him get continued media coverage," writes Storm Byrd, a columnist with The Arizona Daily Wildcat, "this simply cannot be ignored and must be condemned." "He was burning the book of a religion, one that not only recognizes Jesus Christ as a prophet but recognizes the lineage of prophets that preceded him and recognizes a single God to rule his people," Byrd continued, while concluding: "Jones' behavior is unacceptable, ignorant, hateful and prejudiced."US Secretary of State Hillary Rodham Clinton slammed the media for giving the Rev. Mr. Jones attention, suggesting the media "ignore" his planned actions on September 11. By this time, however, Jones had already become a media darling.Meanwhile, Senator Lindsey Graham, worrying about how the actions of some individuals at home might derail the US war train, said Congress needs to hold a debate on the limits regarding the freedom of speech."I wish we could find a way to hold people accountable," Graham said on "Face the Nation" Sunday. "Free speech is a great idea, but we're in a war." General David Petraeus, the commander of ISAF and US forces in Afghanistan, said on Sunday that the burning of a Koran at the Florida church was a "hateful" act and that NATO condemned it in the "strongest manner possible." Meanwhile, NATO's senior civilian representative, Mark Sedwill, said the destruction of the Koran was "an act of disrespect to the Muslim faith and to all peoples of faith."With violent protests entering their fourth day in Afghanistan, it looks like it will take more than just words to mitigate the damage.Afghan President Hamid Karzai, who is walking a fine line between keeping a leash on the gung-ho US troops, and ensuring that his people do not suspect him of pandering to American interests, is demanding that Washington condemn the Florida priest.Although US President Barack Obama denounced the Koran burning as "an act of extreme intolerance and bigotry," it is doubtful that the wrath of the Afghan people, not to mention Muslims worldwide, will accept anything less than Jones' being held personally accountable for his hateful actions. US Christians, it seems, should also be demanding punishment for the Florida pastor alongside the Muslims, since burning the religious book of any people constitutes a hate crime and quite simply behavior that goes against the teachings of any religion worthy of the name. Russia's Foreign Ministry on Friday called on Afghanistan's government and international forces to protect United Nations workers after at least eight of them were killed in a Northern Afghan city."We call on the law enforcement bodies of Afghanistan and international forces… to take all necessary measures to prevent violence against the UN and its staff in Afghanistan," it said in a statement.Meanwhile, NATO reported one of its service members has been killed in an insurgent attack in eastern Afghanistan.The coalition says the service member died Sunday. In a statement issued Monday, the identity of the soldier was not released in keeping with a policy of waiting for national authorities to provide such information. However, the majority of the troops in the east are known to be American.The latest death statistic makes a total of 102 NATO service members killed so far this year, as compared to 129 NATO troops who died in the same period last year.How much Pastor Jones and super-sensationalized media should be blamed for at least some of these deaths is a question that Congress will certainly be addressing soon. At the very least, Jones should be held accountable for actions that can only be considered "crimes against humanity," perhaps serving out his jail time inside of Guantanamo Bay detention facility. He'll have plenty of opportunity to read his favorite book there.
Robert Bridge, RT