Third Party presidential candidate under investigation in key battleground state
Published time: 5 Sep, 2012 15:46
Edited time: 5 Sep, 2012 19:46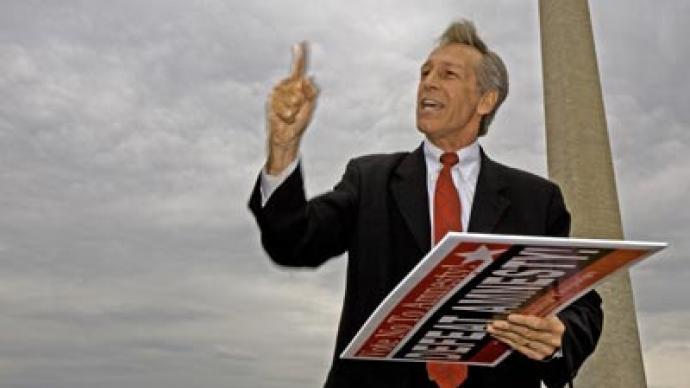 The presidential nominee for the conservative Constitution Party has made his way onto Virginia's presidential ballot, thereby creating the option for Mitt Romney to lose votes during a tight election.
The Virginia State Board of Elections announced Tuesday that Virgil Goode, a former congressman, would be the third name on the ballot in November. Virginia is a swing state, and in an election that is anticipated to be this tightly contested, any additional candidates could affect the results by taking away votes. Goode is likely to take away conservative votes that would have otherwise gone to the Republican nominee, Mitt Romney.
"I look at it today as unimportant, but in November it could be very important. In a close race, almost anything could matter," political analyst Kyle Kondik told the New York Times.
At of the end of August, poll averages estimate that Obama is favored by 47.3 percent of Virginia voters, while Romney stands at 46.7 percent. With the candidates being less than a percentage point away, it wouldn't take much for Goode to bring Romney down.
At the request of Virginians worried about Goode skewing the vote, the Board of Elections asked Kenneth T. Cuccinelli II, the state's attorney general, as well as state police, to investigate the Constitution Party's method of acquiring signatures to make sure they are not fraudulent.
"That's absurd for [them] to even make a charge like that," Goode said in an interview with the Washington Post. "I have to wonder about their motives in doing something like this. It sounds like they don't want any view other than theirs out there."
Goode called the Republican-led investigation an attempt to control the ballot and intimidate third parties.
"Candidate Romney, before he continues campaigning, should read the First Amendment about free speech and the right to petition," he said Tuesday. "They're afraid true conservatives will vote for me."
Goode submitted more than 20,500 signatures to the election board. State law only requires third party candidates to submit 10,000, including 400 from each congressional district. Critics of the candidate claim he submitted suspiciously large numbers of signatures and collected many from several outlying locations on the same day.
The Constitution party candidate is under investigation, but if the board fails to find evidence of fraud, he is likely to alter the election turnout.
"We want to get as many votes nationally as possible, and I hope before Election Day, Americans will look at Romney and Obama and realize they are controlled by millionaires and billionaires, and say you know what, we don't want either one of them," Good said.
While the candidate is currently only on Virginia's ballot, his campaign hopes for him to appear on the ballots of about 25 states.