Democratic National Convention to leave hundreds homeless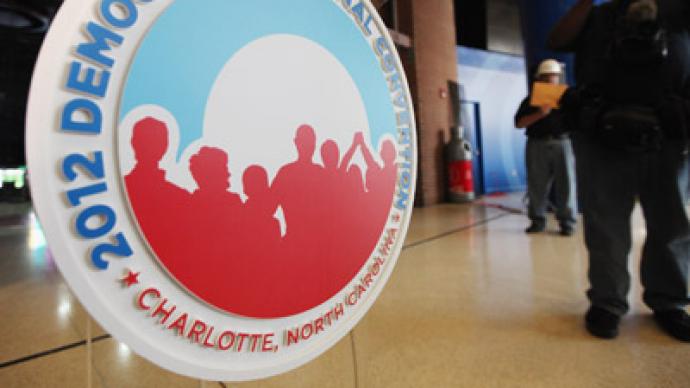 As the Republican National Convention takes off in Tampa, the upcoming Democratic National Convention is in the spotlight over skyrocketing accommodation prices that are forcing many low-income Charlotte families out of the motels where they live.
Unemployed and low-income Charlotte residents often live in cheap motels – sometimes with whole families occupying a single room. And as the upcoming DNC prompts motel costs to rise, some motel residents will have no choice but to check out.
"I work all day for $60," Eric Jones, who predicts that each night in his motel room could end up costing his full daily income, told the Los Angeles Times. "Why am I going to pay $60 for a room? Then I won't have enough to spend on food or anything."
But a room at the Sunset Inn, which is usually priced between $35 to $40 a night, will increase to $250 a night during the DNC, WCNC.com reports. On average, Charlotte's room prices will increase by 109 percent during the convention. Homeless advocacy agencies predict that the number of people without a place to stay could rise significantly as a result.
To prevent the displaced from living on the streets, groups affiliated with the Homeless Services Network have raised $20,000 to help pay for housing. Part of this money will go directly to the expected 100-plus at-risk families to help them pay the increased motel costs. The fund will also pay for a shelter at the Salvation Army, rooms in a congregational shelter and transportation to Charlotte-Mecklenburg Schools for children.
"Ninety percent of these families don't have their own transportation, so the impact is that the children miss school," said Annabelle Suddreth, the executive director of A Child's Place, a local group working to tackle the impact of homelessness on children's education.
Officials at the Salvation Army told the Charlotte Observer that they had already been contacted by five families who lost their lodging, two of which are headed by single fathers raising their kids in motels.
About 36 church congregations have offered beds, bringing the program's number of beds up to 800, which families will be able to use for up to eight nights.
"We are very grateful that they are so willing to serve when we don't know very clearly what to expect. There are a lot of unknowns," said local clergyman Dale Mullennix.
And though the community has been left to help the displaced families, Suddreth says she holds no grudges against motels raising their prices.
"They are simply doing their job," she told the Observer. "The convention was touted as a way for people to make money."
As America watches the RNC unfold, its eyes are already on the potential impact of the DNC, which will begin September 4. As Charlotte motels fill up with high-paying convention guests, poor families will wait out the much-anticipated course of events, hoping stability returns when it's over.
You can share this story on social media: