GOP hopes to avoid floor fight with Ron Paul supporters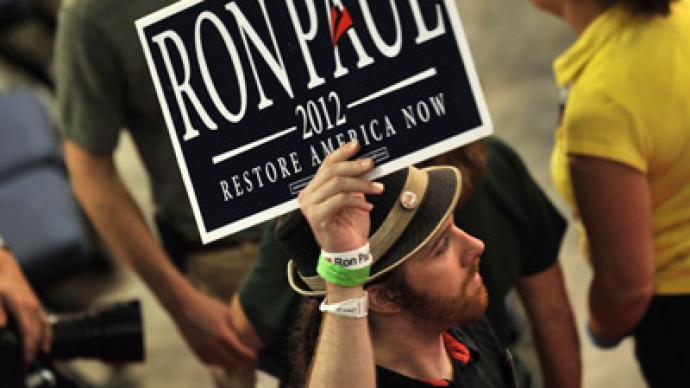 A floor flight will likely be avoided this week at the Republican National Convention due to a last-minute compromise with supporters of Rep. Ron Paul. But the GOP isn't exactly giving in.
Republican National Committeeman James Bopp tells ABC News that the GOP has finally worked out a deal with the delegates descending on Tampa this week for the party's pre-election convention. If a delegate is bound to represent Rep. Paul (R-Texas), says Bopp, they will be able to do so on the convention floor. Voting for another candidate, however, will come with some harsh penalties.Supporters of Rep. Paul have been at war with the GOP establishment in recent weeks over, in part, fears that they would not be able to endorse the congressman in lieu of presumptive party nominee Mitt Romney. Organizers of the RNC had feared that the dispute would lead to a floor flight at the convention, but Bopp now says that that delegates in Tampa will be able to show their support for the candidate of their choice, as long as they have been bound to that candidate during their local nominating contests.The Republican Party had planned to introduce a rule that would have effectively allowed presidential candidates to choose their own delegates. Bopp now confirms this week that a compromise has settled the dispute, and that delegates will be allowed to endorse the candidate of their choice."It's going to shut us out of the process," Oregon delegate Larry Ericksen, a Paul backer, warned the Associated Press earlier this week about what the GOP's panned procedure could do. Ericksen, along with Bopp, was opposed to the rule that would have allowed candidates to have their own say in selecting delegates."We deserve a voice in the process," Ericksen said.Now that voice is being given, but not without stipulations, of course.According to Bopp, the convention has decided to compromise on the language that mandates how state-decided delegates nominate their candidate of choice. Under the agreement, presidential candidates can confer with Republican leaders in states that have held their own nominating process to pick delegates. That doesn't mean that supports of Rep. Paul will be awarded a victory in the fight they've been adamantly involved in, though. It does, however, ensure that the candidates bound to nominate the congressman will be allowed as much."The leadership of the Republican National Committee and the Romney for President campaign has heard the concerns of the conservative grassroots voices in our party and has crafted an amendment to the Rules adopted on Friday to address these concerns," Bopp tells his fellow Republican National Committee members in a Monday night email. "At the same time, the revised language closes a loophole in our party rules, which previously failed to include a penalty for delegates who break their promise to vote for a particular Presidential candidate as required by state law or state party rules."Bopp adds that, if a delegate votes for a candidate that they are not bound to, they will be kicked out of further conventions. ABC explains that the party would also be able to vote on that delegate's behalf.Opponents of Rep. Paul have previously challenged his victories in Maine, Louisiana and Massachusetts in an attempt to have his delegates dismissed from the RNC. Monday evening, delegates for Rep. Paul passed out pamphlets in Tampa warning other Republicans that the party is on the prowl to disenfranchise others and that a change to the system must be made.The convention was postponed for a day as a result of tropical storm Isaac, but will now continue throughout the week.