Panetta thinks he's winning the war in Afghanistan. He's wrong.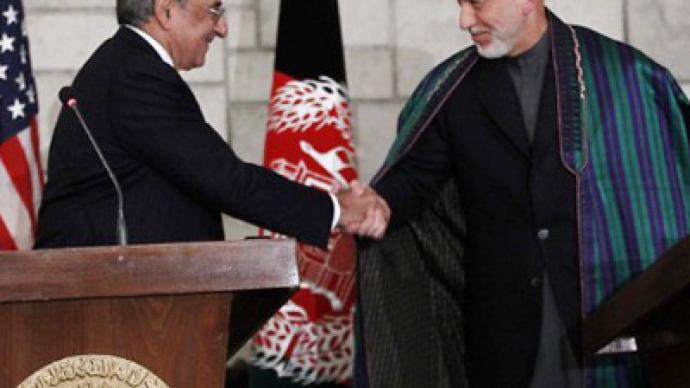 As President Obama saluted American soldiers coming home from Iraq this week, Defense Secretary Leon Panetta lied through his teeth to troops, insisting that the war in Afghanistan is moving "in the right direction."
Those were the words that the chief of the Pentagon said on Wednesday from a US base in Pakika province near the Afghanistan's border with Pakistan. "We're winning this very tough conflict," added Panetta.On the contrary, NATO statistics reveal that there has been a 21 percent increase in enemy attacks in the eastern portion of Afghanistan alone as of late. Figures from the United Nations also show a peak in violence overseas in 2011.The US is slated to remove 23,000 of the 91,000 or so troops from Afghanistan by 12 months from now, which while a substantial start to a drawdown, will cause unprotected troops to be more susceptible to enemy attacks. More than ten years after the US first put boots on the ground in Afghanistan, Panetta told those soldiers that current operations have the American cause moving in the right direction and a victory for the US is imminent. Despite his alleged optimism, that end might not be as near as he leads troops to believe. The Washington Post reports that one soldier quizzed General Panetta on his statements Wednesday, asking him, "If the Afghan government falls apart after we leave here, are we going to have to come back in 10 years to pick up the pieces?""The answer to your question is: We are not going to walk away," responded Panetta. "This has been a difficult and complicated relationship as all of you know, but it is an important relationship, and it is one that we have to continue to work at," said the commander. "My hope is that we maintain a long-term relationship with Afghanistan, that we don't just simply pick up and get out," added Panetta on Wednesday. "We spilled too much blood here."Only four months earlier, former commander of American troops Stanley McChrystal said that the War on Terror was only "a little better than" half way over. "We didn't know enough and we still don't know enough," the now-retired general told the Council of Foreign Affairs in Washington back in October.Two months earlier, August 2011 marked the bloodiest month for US troops since the war began a decade earlier. The tally of troops killed overseas topped off at 66 by the end of the month, just bypassing the previous record of 65 set back in July 2010. So far in this year, 409 Americans have died, marking the second highest tally since the skirmishes started in 2001. With two weeks left in December, only a few dozen more casualties will make 2011 the worst year ever for American soldiers in Afghanistan.