Pentagon to double drones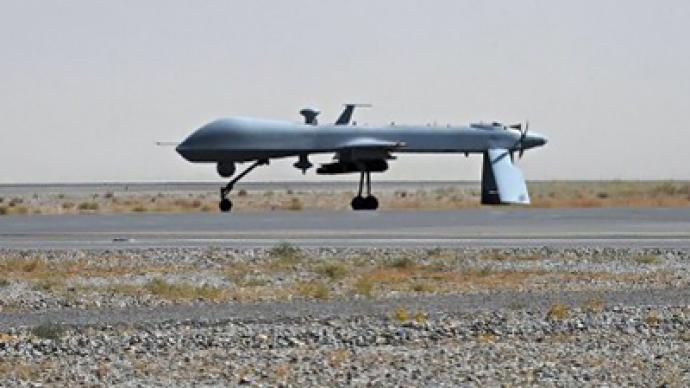 One week after thousands of demonstrators staged a sit-in in Karachi, Pakistan to protest US drone attacks, The Pentagon has announced plans to double its number of robotic aircrafts over the next few years.
The Aircraft Procurement Plan 2012-2041 released today outlines intended projects for the US military to fund for the next three decades at a cost of around $25 billion per year. While few changes will be made to the tally of other aircrafts, the Department of Defense looks to up its drone squad from around 340 (the estimated number for Fiscal year 2012) to 650 in the year 2021. The report reads that the "emphasis on long-endurance, unmanned ISR assets — many with light-strike capabilities — is a direct reflection of recent operational experience." A report published by the Brookings Institute in 2009, however, estimates that for every militant killed, around ten civilians also lose their lives thanks to drone attacks. While more than 30 other nations employ the usage of robotic aircrafts, the US has come under heat in recent years for its strikes across the Middle East. A raid on a Pakistani funeral in 2009 took the lives of 60 suspected militants, but a report released by the New America Foundation months later estimated the tally of civilian deaths resulting from drone attacks to make up around one third of the total number of kills. Between 2006 and 2009, Leon Panetta said attacks in Pakistan resulted in as many as 1,000 deaths, 20 of whom were enemies of America—al Qaeda affiliates, the Taliban and allies; the others were foot soldiers or civilians, the latter tallying as high as 320, the report believes.Another US strike this March in Islamabad killed 26 people, half of whom were elders and tribes people not associated with insurgents. Only a month later a strike took the lives of nine civilians—all women and children. That attack came only two days after Pakistan asked the US to halt all drone strikes and remove much of their CIA presence from the area."This war has killed thousands of innocent Pakistanis, women and children," said Tehreek-e-Insaf (Movement for Justice) leader Imran Khan at last week's protest in Karachi. "There was not a single Taliban militant in Pakistan before 9/11 but since we joined this war, we are facing acts of terrorism, bombing and drone strikes," Khan said. Around 7,000 supporters attended the rally, brandishing signs and banners advertising their ongoing hope for the end of drones.As the US plans to double its drone infantry, manufacturers are heeding their call. Northrop and Boeing are in the process of developing new robotic plans that will soar higher and stay up longer. And while The Pentagon aims to have 650 planes in the air by 2021, the report also notes that plans are "less specific" after fiscal year 2016, meaning the US may adopt even more of the air-bots.
You can share this story on social media: