Last warning? Panetta threatens Pakistan
Published time: 7 Jun, 2012 16:44
Edited time: 7 Jun, 2012 20:44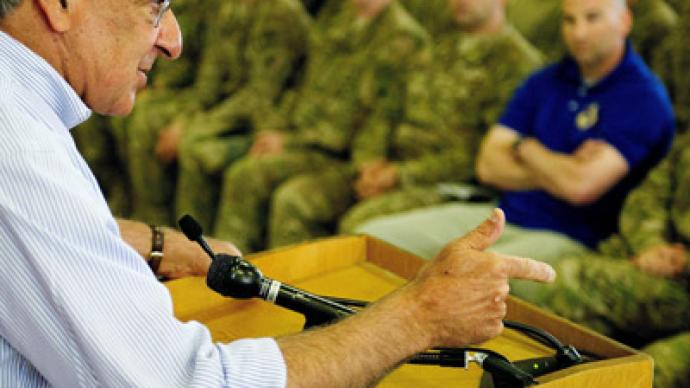 Only days after US Defense Secretary Leon Panetta admitted that American troops are engaged in a war in rural northwest Pakistan, the Pentagon's top-dog says that the United States is losing patience with their once amiable ally.
Secretary Panetta tells reporters and military leaders from Kabul, Afghanistan on Thursday that the United States' relationship with Pakistan is being put to the test because he feels like officials there are all too willing to take in insurgents from neighboring Afghanistan.
"It is difficult to achieve peace in Afghanistan as long as there is safe haven for terrorists in Pakistan," Panetta says Thursday.
"It is very important for Pakistan to take steps. It is an increasing concern, the issue of safe haven, and we are reaching the limits of our patience," Panetta adds in his Thursday briefing.
It's been more than a decade since the United States military began an occupation in Afghanistan to fight the Taliban and al-Qaeda, a mission that has necessitated a cooperative relationship between the US and Pakistan. As tensions worsen between those countries, though, Panetta suggests that the United States might soon hit a snapping point. Particularly, Panetta is at odds over Pakistan's own handling with America's enemies.
Just one day before his latest address, Panetta said during an intelligence briefing on Wednesday, "We are fighting a war in the FATA, we are fighting a war against terrorism," referring to the Federally Administered Tribal Areas, a region in northwest Pakistan. The US has long urged Pakistani officials to patrol the region themselves but that request has regularly been ignored by authorities who fear any state intervention can spur a civil war. Panetta's citing of America's own endeavors there as a "war" is believed to be the first time that a top-ranking defense official has declared the lengthy military operations in Pakistan as such. America's interest in that war is not being aided sufficiently but its host country, however, because Panetta has now twice in one week had harsh words for Pakistan.
Earlier in the week, former CIA official Robert Greiner told the UK's Guardian that America's unrelenting drone-led air strikes on suspected terrorists is "creating more enemies than we are removing from the battlefield" and suggested that it is creating a safe haven for insurgents in neighboring Yemen.
"That brings you to a place where young men, who are typically armed, are in the same area and may hold these militants in a certain form of high regard. If you strike them indiscriminately you are running the risk of creating a terrific amount of popular anger," said Greiner.
In his own address from Kabul, Panetta says that creation of safe havens in Pakistan will put the pressure on American troops to crack down on insurgency, even if that means attacking within the borders of its Middle East ally.
"It is an increasing concern that safe havens exist and those like the Haqqanis make use of that to attack our forces," explains Panetta.
"We are reaching the limits of our patience for that reason. It is extremely important for Pakistan to take action to prevent (giving) the Haqqanis safe havens, and for terrorists to use their country as a safety net to conduct attacks on our forces."