Pakistan orders US drones out of base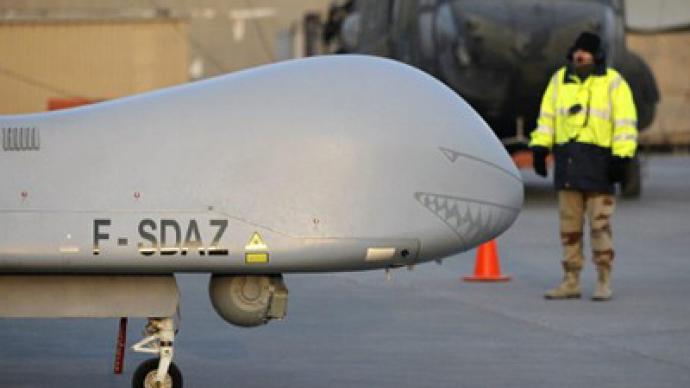 The latest blow against America's overseas drone operations comes out of Pakistan today, where the country's defence minister told reporters that he has ordered US forces to vacate the Shamsi air base.
"We have told them to leave," Defence Minister Ahmed Mukhtar was quoted as saying by the Associated Press out of Pakistan. Tensions have been high since the US carried out a clandestine raid on the Abbottabad compound belonging to Osama bin Laden in May and drone strikes on alleged insurgents operating in Pakistan continue to take the lives of civilians.The CIA has reportedly been using the Shamsi station as a base for its robotic drone aircrafts, but this week US officials attest that that is not the case. When quizzed by the Financial Times, the White House refused to comment, but previously would not acknowledge that it operates drone strikes in the region. Reports from CNN, however, revealed that drone operations were being based out of Shamsi, and that Pakistani civilian and militant leaders had privately given the US military consent.To Financial Times, Mukhtar says, "No US flights are taking place from Shamsi any longer. If there have to be flights from this base, it will only be Pakistani flights.""We have ended all US flights from the base," he adds.In recent weeks Pakistan has kicked out over 100 US officials from the country, and earlier this week they expelled a team of British military trainers. Earlier this month, the Pentagon said it was looking to double its number of drones over the next few years, hoping to go from around 340 to 650 between 2012 and 2021. That announcement came only days after a sit-in in Karachi, Pakistan was launched to protest drone attacks. A March 2011 drone strike on Islamabad, Pakistan killed 26, over a dozen of whom were innocent civilians. A report published by the Brookings Institute in 2009 estimates that for every militant killed, around ten civilians also lose their lives thanks to drone attacks.On Tuesday of this week, US officials voiced concern that the Taliban's Mullah Omar was taking residency in Pakistan and asked the country's army to help locate him. Defence Minister Mukhtar, however, doesn't believe he is taking refuge there.Two weeks ago the CIA announced that it will begin operating drones over Yemen in order to combat al-Qaeda.