Oregon teen to be charged with attempted murder over 'conspiring to top Columbine massacre'
Published time: 26 May, 2013 11:51
Edited time: 26 May, 2013 17:07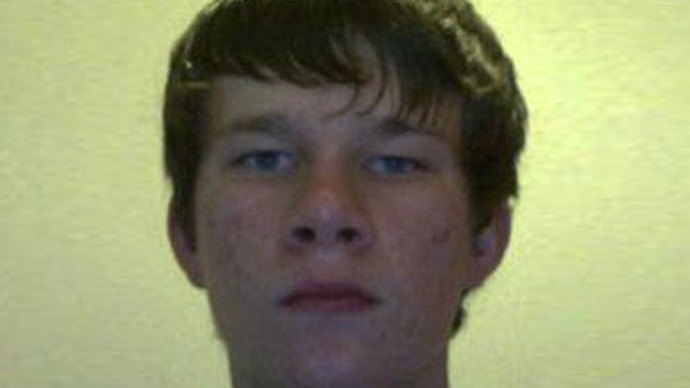 An Oregon high school student has been accused of building at least six bombs in preparation an attack modeled after the notorious 1999 Columbine school shooting.
Grant Acord, 17, was arrested late Thursday at his Albany home and taken to a juvenile jail. He is suspected of manufacturing and possessing explosive devices, which he stored in a secret compartment under the floor of his bedroom, according to authorities.
He will also be charged with attempted aggravated murder in an adult court, Benton County District Attorney John Haroldson said Saturday.
"The charge of attempted aggravated murder requires that we prove that a substantial step was taken toward the completion of the crime," the attorney said. "In this case, we would be relying upon evidence of plan. Diagrams, checklists, a plan to use explosive devices and firearms to carry out a plan specifically modeled after the Columbine shootings."
Haroldson said the police found pipe bombs, Molotov cocktails, napalm bombs and explosives made from drain cleaner. He would not say when the alleged attack was planned to take place, but said that police had found a timeline.
He said that Acord chose the West Albany High School, where he was a student, because it was a "target-rich environment," and that the suspect did not appear to have targeted any specific person at the school.
The attorney said he was not aware of any problems Acord may have had, but that further investigation was needed.
"In any case that you have a young person that in essence plans to take a video game approach to killing people at school, you have to take a close look at the mental health issues," Haroldson said. "And the process will certainly provide for that once he's represented by counsel."
Albany Police Department said they had been altered to the case by a tip. No explosives were found during a search of the school, the statement said. Charges against Acord will be formally filed Tuesday morning, since Monday is Memorial Day, a national holiday in the US.
Following the revelation and Acord's arrest, Oregon police say they plan to conduct an extensive search of the high school the teenager attended.

The Columbine High School shooting in April 1999 was one of worst mass killings at a US school. It involved a firebomb that diverted firefighters and emergency personnel, a botched attempt to bomb a cafeteria, and a number of pipe bombs used during the shooting. The two perpetrators killed 12 students and one teacher before committing suicide.