Ohio lets warden decide how to execute inmates
Published time: 25 Mar, 2014 19:05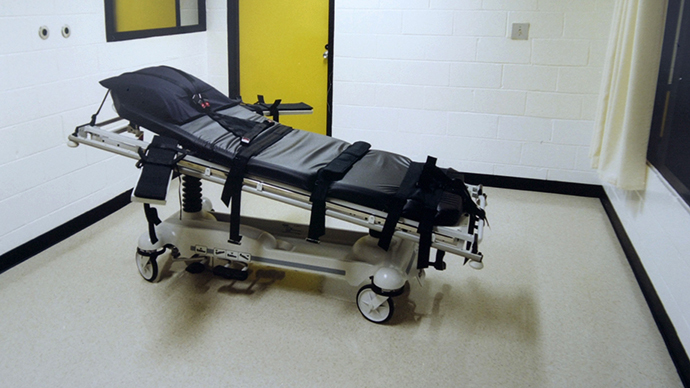 Oklahoma's Department of Corrections has expanded its new execution protocol to include five different lethal injection procedures, and has also made the choice the sole discretion of the state's warden.
The move comes about one week after Oklahoma was forced to delay the executions of the convicted murderers Charles Warner and Clayton Lockett. Last week, their lethal injection procedures were postponed for a month due to the fact that the state could not obtain the drugs necessary for its original protocol: pentobarbital and vecuronium.
According to NBC News, lawyers for the death row inmates said the new protocol allows for five possible one-drug and three-drug combinations injections to be used during an execution.
"Alarmingly, the new protocol has no provision for how the method of execution will be chosen or when legal counsel and the condemned prisoner will be informed of the selected method," the lawyers said in a statement provided to NBC.
One of the possible drug combinations approved is a mix of the sedative midazolam, the painkiller hydromorphone, and potassium chloride. As noted by Tulsa World, this is a combination that's never before been used in an execution, though the two-drug combo of midazolam and hydromorphone was employed earlier this year to kill an inmate named Dennis McGuire in Ohio.
That case, however, was particularly troubling since it took about 25 minutes for McGuire to die – an unusually long timespan marked by reports of him struggling for his life and gasping for air. His family is suing the state, claiming it violated his constitutional rights and subjected him to cruel and unusual punishment.
"We're taking a virtually unknown combination of drugs that have only been used in one execution – which by all appearances went very badly – then adding a drug that causes cardiac arrest," Eight Amendment resource counsel Megan McCracken told Tulsa World, referring to the inclusion of potassium chloride. "That's very troubling."
This episode is the latest of many, in which states running out of drugs like pentobarbital scramble to find alternatives. Many of the pharmaceutical companies who manufacture such drugs, primarily based in Europe, have stopped selling them to US correctional departments due to moral objections to capital punishment.
Meanwhile, just as worrisome to some is Oklahoma's move to place the state penitentiary warden Anita Trammel in charge of choosing which form of injection to use.
"The issue is that you can't give too much power to the Corrections Department," Richard Dieter of the Death Penalty Information Center told Tulsa Word. "I would wonder if the warden has medical training, is aware of how the drugs work, is aware of pain and suffering."
Dieter also pointed to a 2012 Arkansas law that was found unconstitutional for placing the Department of Corrections in charge of making similar decisions.
Both Warner and Lockett will be in court on Wednesday as they attempt to learn more about exactly what drugs Oklahoma intends to use to execute them. The two inmates are also requesting a judge to declare the state's new protocol unconstitutional.