Crude oil pipeline bust contaminates Ohio nature preserve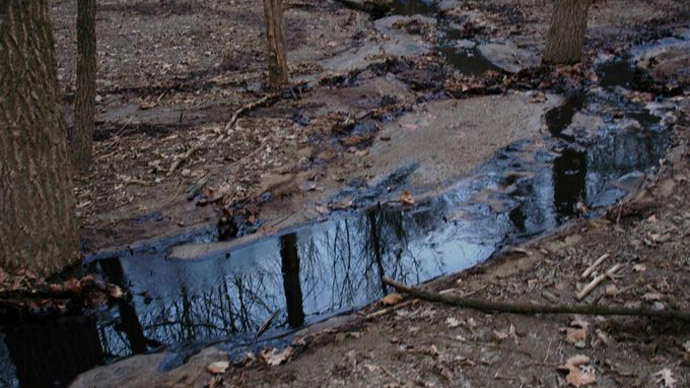 Some 240 barrels of crude oil seeped from an underground pipeline and contaminated a large area in the Oak Glen Nature Preserve in Ohio. While the leak is relatively small, the cleanup process is expected to be tricky.
The 20-inches Mid-Valley Pipeline Co. pipeline probably burst at the end of last week, since local residents reported smelling petroleum at the time. The spill was discovered on Monday, after which authorities called for an inspection, local media reported.
"We do have a large area impacted. The good news is it's contained. The bad news it's a mile of creek impacted. It is going to be a big cleanup," said Steve Renninger of the US Environmental Protection Agency.
Sunoco Logistics, which operates the pipeline, said in a statement that it estimated that 240 barrels of sweet crude oil, or 10,000 gallons, have leaked into the preserve.
The initial phase of the cleanup, in which heavy machinery and powerful vacuum cleaners would be used to recover crude and contaminated earth, will take at least a week, authorities said. The cause of the pipeline rupture is unlikely to be established before that.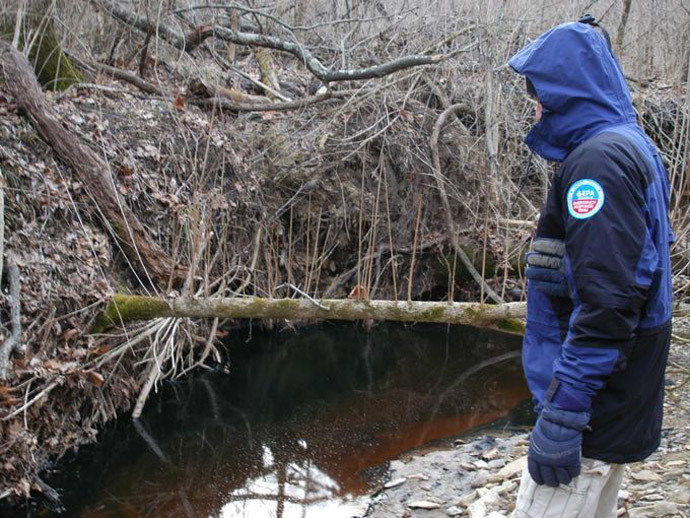 The crude is pooled in a marshland area about the size of a football field, with natural barriers preventing it from seeping further into the Great Miami River, just some 150 meters away, said The Cincinnati Enquirer citing EPA spokesman Heather Lauer.
But with rain forecast a containment structure will be built as a precaution. A road will also be needed in the affected area for machinery access.
A spill "could definitely have been worse later in the spring when all of our wildlife is coming out of hibernation," Bob Mason, stewardship manager with Great Parks, told the Enquirer. "Plus now the ground is still hard, still somewhat frozen, so that helps."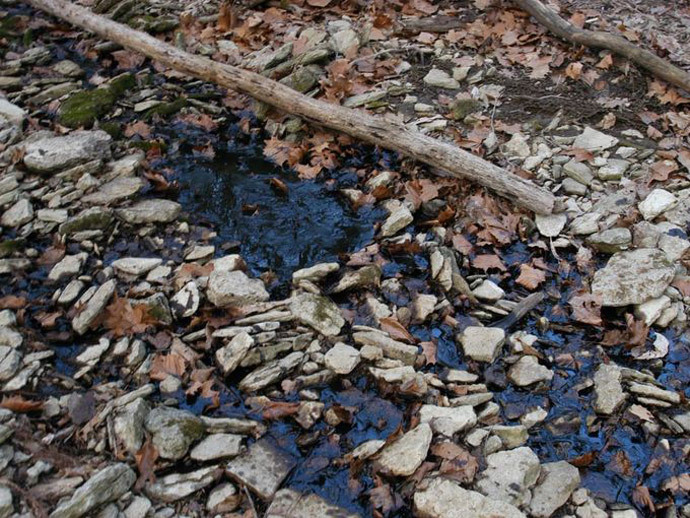 The authorities gave an assurance that the leak is unlikely to affect drinking water in the region. Nearby water treatment plants are located upstream on the Great Miami in Fairfield and upstream on the Ohio River.
The pipeline runs almost 1,800 km from Longview, Texas to Samaria, Michigan. It carries crude oil to several refineries in Ohio and Oregon.
Flows along the Mid-Valley pipeline decreased overnight to around 163,000 barrels per day from an estimated 229,000 bpd, according to data provider Genscape. The pipeline has a capacity of 280,000 bpd, Genscape said.
According to US Department of Transportation records, the pipeline has had 39 incidents since 2006. In those incidents, more than 31,000 gallons of oil were lost. The incidents caused more than $7.5 million in damage. The worst incident happened in 2008 in Burlington, which caused $1.3 million in damage.
The operator paid a $48,700 fine in 2012 for failing to address corrosion problems.
You can share this story on social media: