Keystone XL advertised on White House webpage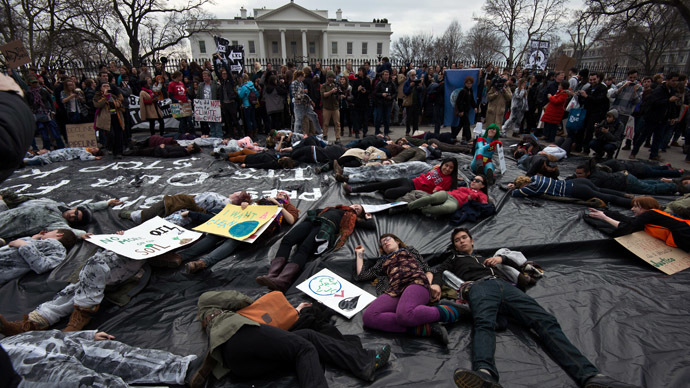 An advertisement for the controversial Keystone XL pipeline project, awaiting approval by the US president, appeared briefly on the White House's official webpage on Thursday.
The ad from the oil and gas lobby, the American Petroleum Institute (API), was seen by some internet users, who tuned in to the US president's virtual town hall on Latino health care enrolment, AP reports.
The live stream, which featured the meeting, was embedded on the White House site from the Fusion network, which has its live streams preceded by so-called "pre-rolls' advertisements.
One of those shown on Thursday was an ad, urging viewers to tell Obama to approve the controversial pipeline. The API, which is running a media campaign for Keystone approval, explained that the commercial appeared on the White House site by coincidence.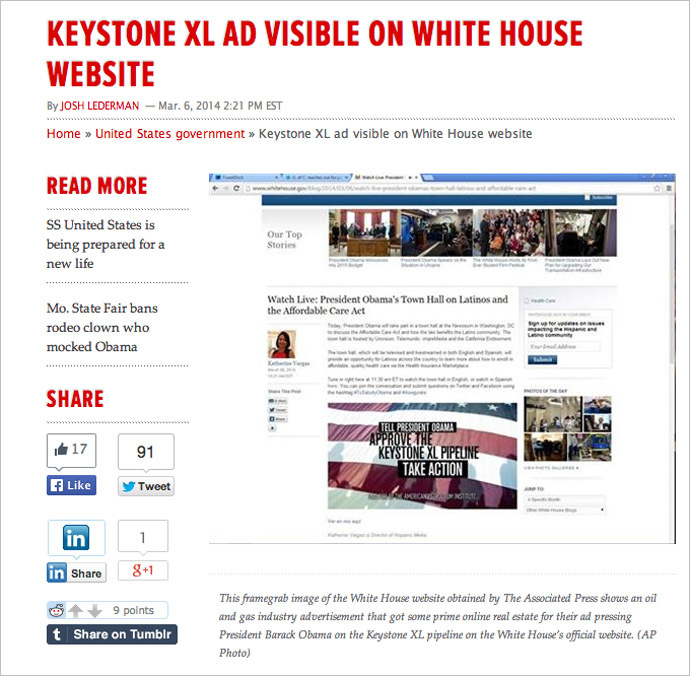 The episode comes just days after several hundred people were arrested during a peaceful protest in Washington DC against the Keystone XL oil pipeline.
More than a thousand activists, mostly university students, marched from Georgetown University towards the White House, where they lay down on a black plastic sheet, imitating an oil spill.
The $7 billion oil pipeline has raised much controversy in the US, where the project has been criticized for its potential negative environmental impact.
The Keystone XL pipeline is designed to carry tar sands oil from Alberta's oil sands in Canada to refineries on the US Gulf Coast. Upto 800,000 barrels of crude oil a day will move along the pipeline.
The US State Department released quite a favorable report on Keystone XL in January. The survey raised few objections regarding the environmental impact of the project.
Although the report did not directly recommend the building of the pipeline, it's believed to be enough to give Obama political cover to endorse the project in a matter of months.
Alternative reports still say the risks are high. A study by the University of Toronto-Scarborough, published in February, warned of harmful carcinogen emissions that are a by-product of tar sands oil production.
You can share this story on social media: