Hundreds arrested at Keystone XL White House sit-in protest
Several hundred people have been arrested during a peaceful protest in Washington DC after they strapped themselves to the White House fence and laid out their demands on Pennsylvania Avenue in protest against the proposed Keystone XL oil pipeline.
The activists, mostly university students started their march at Georgetown University and headed towards the White House. More than 1,000 students from across the country signed up to take part in a march.
Armed with slogans "climate justice now", they carried placards reading "don't tarnish the earth" with the aim to convince President Obama to reject the pipeline that will have dire consequences for the environment if built.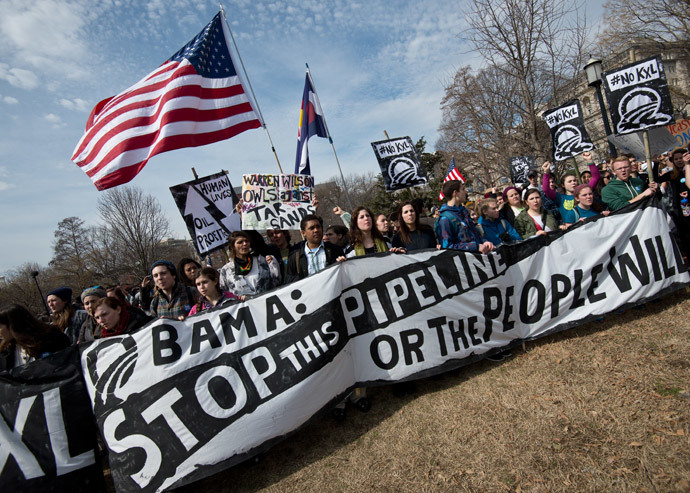 Along their route, they made a stop outside the residence of US Secretary of State John Kerry to push him to recommend President Obama reject project of a 1,700-mile crude oil pipeline stretching from western Canada to the US Gulf Coast.
Symbolic oil spill outside Sec. Kerry's residence; protest against Keystone pipeline in DC. pic.twitter.com/tujIrnybHn

— M. Scott Mahaskey (@smahaskey) March 2, 2014
"If the Democratic Party wants to keep our vote, they better make sure President Obama rejects that pipeline," said Nick Stracco, a 23-year-old student at Tulane University in New Orleans.
Police were waiting for them in front of the White House in their buses and vans. Around 450 people were arrested in this "largest youth act of civil disobedience at the White House in a generation," according to the environmental organizers 350.org.
Hundreds outside White House for #nokxl anti-pipeline right now. pic.twitter.com/025nCXsBDf

— Andrew Blake (@apblake) March 2, 2014
Prior to the detentions authorities warned the activists that blocking the sidewalk or strapping themselves to the fence would lead to their arrest.
These Keystone protesters likely only have a few minutes to leave or risk arrest #nokxlpic.twitter.com/cDC5rAzhY1

— Andrew Blake (@apblake) March 2, 2014
"Our future is on the line. The climate is on the line," said 20 year-old Aly Johnson-Kurts, from Smith College in Massachusetts. She said she had decided to get arrested on Sunday. "When do we say we've had enough?"
Close to 200 are zip-tied to the White House fence for #nokxl protest. Dozens others awaiting arrest as well. pic.twitter.com/M5KZxIRqFf

— Andrew Blake (@apblake) March 2, 2014
Symbolic oil spill outside White House. Protesters tie themselves to fence in Keystone pipeline protest. pic.twitter.com/egZ9rNvk8d

— M. Scott Mahaskey (@smahaskey) March 2, 2014
The $7 billion oil pipeline is destined to deliver high-carbon tar sands oil from the Western Canadian Sedimentary Basin in Alberta to a hub in Nebraska, where it would then connect with other existing pipeline networks to deliver 800,000 barrels of crude oil a day to refineries in Texas.
Critics of the project say that, in addition to the carbon-intensive impact that results from the extraction of tar sands that will only worsen the effects of climate change. The opponents also feel that the pipeline will also put communities nearby at risk of oil spills and their subsequent fallout.
Activists are also concerned that oil will go to growing economies overseas that have an increasing demand for more fossil fuels and is unlikely to lower the price of gasoline in the US.
Arrests continue follow march/protest against Keystone pipeline outside White House. Situation calm, controlled. pic.twitter.com/YAOCkcxYhd

— M. Scott Mahaskey (@smahaskey) March 2, 2014
More police photographing #nokxl protesters at White House pic.twitter.com/dVs7OYuS4V

— Andrew Blake (@apblake) March 2, 2014
In late January, the US State Department released a report on the project raising few objections to the environmental impact of the pipeline.
Obama blocked Keystone XL approval in January 2012, saying he needed more time for a fair review, pushing the decision to after his re-election campaign. Following the publication of the report Obama is expected to make a definitive decision on approval of Keystone XL in a matter of months.
You can share this story on social media: