Untested execution drug combination to be used in Ohio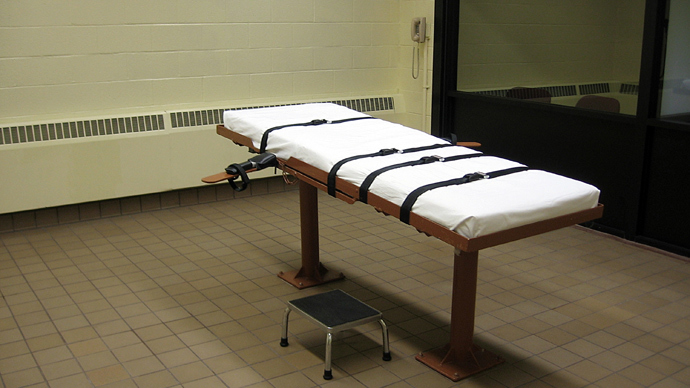 Ohio prison authorities decided to use a previously untested combination of drugs for next month's execution, having run out of pentobarbital, the substance formerly used for that purpose. 
The state's Department of Rehabilitation and Correction announced it did not have enough of pentobarbital to carry out the execution scheduled for November, but would still go on with the death penalty as planned. 

The execution "will proceed with intravenous administration of midazolam and hydromorphone," the Department's spokeswoman JoEllen Smith informed the state authorities in an e-mail. The combination of a sedative and a painkiller will be used for the death penalty for the first time.
"No other state has used these two drugs in an execution," Reuters cites Richard Dieter, executive director of the Death Penalty Information Center, which opposes capital punishment. 
Ohio has thus become one more US state affected by major pharmaceutical companies' unwillingness to supply their products to prisons to be used for lethal injections. 
Most of manufacturers of lethal substances are located in the EU, which opposes the death penalty and discourages producers from supplying prisons with drugs for executions. The Danish pharmaceutical company, Lundbeck LLC, therefore stopped supplying pentobarbital. 
The state of Florida, facing the same shortage of lethal drugs earlier in October used midazolam along with two other drugs in an execution. 
Pentobarbital, which the prisons can no longer source for executions, had been used for animal euthanasia up until 2010, when it became a substitute for another lethal drug, sodium thiopental, supplies of which have been curbed. 
Seeking ways to cope with the killer drugs' shortage, Ohio issued new execution guidelines earlier this month. According to them, the state can seek pentobarbital from a compounding pharmacy, which is permitted to compound the drug and administer it to individual patients.  Those are, however, not regulated by the FDA and have faced lack of trust issues following last year's meningitis outbreak, which killed 60 people and was linked to contaminated ingredients in such a pharmacy in Massachusetts.
Death row inmates in Texas filed a law suit in early October objecting to the sourcing of killer drug from a compounding pharmacy. The lawsuit states that the drug carries "a high risk of excruciating pain." 
Confusion over which drug to use has led to decreased numbers of executions. Death penalties in the US peaked in 1999 with 98; their number diminished to 43 in 2011 and 2012, and 32 so far this year.  
The man due for execution in Ohio, with the help of a new combination of drugs, is Ronald Phillips, 40, who was sentenced to death for raping and killing his girlfriend's three-year-old daughter in 1993.
You can share this story on social media: