OWS Day of Action: Police vs People (PHOTO, VIDEO)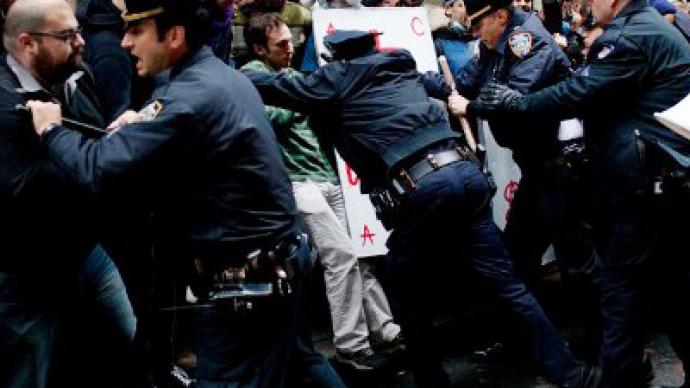 Occupy Wall Street organizers asked for a Day of Action on November 17 and that's what they got as more than 30,000 people in New York City alone protested in the biggest OWS demonstration since the movement began two months ago.
Protests were planned across the US in hundreds of cities, yielding hundreds of arrests in just the first few hours.In New York City Thursday morning, Occupy organizers launched mass protests across Manhattan starting with a rally in the Financial District where the movement began in September. Thousands of demonstrators rallied around Wall Street in an attempt to shut down the New York Stock Exchange before surrounding Zuccotti Park, where the NYPD and a New York judge have been prohibiting protesters from camping in recent days.

Throughout the afternoon hours, barricades around the park's perimeter came and went as police alternated between allowing protesters to occupy the area and kicking them from the premises. A spontaneous raid on the park at one point spawned several arrests and injuries as protesters were beaten by batons while hundreds of cops stormed the square. Others saw police wheel out dangerous sonic sound cannons, which have been known to cause permanent hearing loss.

Outside in the adjacent streets of Lower Manhattan, cops erected barricades and demanded identification from people in order to access public sidewalks. Anti-corporate protesters in response called the practice the establishment of a Police State within New York City and watched in disbelief as cops selectively allowed who could and couldn't walk the streets of the Big Apple. Ironically, cops appeared to only allow those with corporate-issued passes access to the sidewalks so they could go in and out of office buildings as thousands outside rallied against those very corporations.
Several demonstrators on the scene told reporters that they either witnessed or experienced beatings from police while protesting peacefully in Zuccotti Park and the surrounding area in Lower Manhattan. Many of the events inside the park went unreported as police revoked press credentials and kept the media from entering the square. Some journalists reported that they were struck by police batons and others said that the NYPD refused their NYPD-issued press credentials, claiming them invalid. When the city first evicted protesters from Zuccotti Park on Tuesday morning, press at the time were also largely prohibited from covering the event as the NYPD attempted a black-out of media coverage by barring reporters from the scene. By 4 p.m. local time, New York Mayor Michael Bloomberg confirmed 177 arrests so far.Into the evening, thousands of protesters marched onto the Brooklyn Bridge where they rallied for their cause in droves. By 7 p.m., violent clashes between protesters and police seemed to have subsided by demonstrators remained angry and only grew in numbers. Even corporate America, whether they wanted to or not, became aligned with the protesters, as a projection of "99 %" was illuminated on a nearby building operated by Verizon. After dusk, NYPD sources suggested that the number of protesters had reached more than 30,000.In the early weeks of the movement, a massive march on the Brooklyn Bridge led to 700 arrests in New York City. Tonight, however, thousands of demonstrators marched over the historic crossing out of Manhattan in what is without a doubt the biggest gathering of occupiers yet.Across the country, at least two dozen were arrested in Los Angeles in the first few hours of the Occupy LA demonstrations. Police gave participants a 5-minute warning before beginning arrests and apprehending peaceful protesters.

Up the West Coast in Portland, Oregon, hundreds of protesters clashed with police in a standoff there where Occupy demonstrations have been occurring daily in the city as of late. Participants shouted slogans to encourage equality and end corrupt greed as they marched across the city. A gathering early on at the Steel Bridge ended with 25 people being arrested for disorderly conduct, though rallies have continued throughout the day in a series of events which has brought protesters from bank to bank across Portland.

In Washington DC, marchers with the local Occupy movement marched from their headquarters in McPherson Square only a few blocks from the White House and headed to Key Bridge over the Potomac River. As of this writing, hundreds of protesters have continued an occupation of the bridge between DC and Arlington, Virginia and plan to stay there into the evening before moving their protest back into the city.While many had viewed the eviction of protesters from Zuccotti Park earlier this week and the subsequent crackdowns across the country as a nail in the movement's coffin, Thursday's events without a doubt demonstrate that the Occupy protests are stronger than ever after two months of ongoing demonstrations.
You can share this story on social media: