Musician shocks Obama's party with Occupy song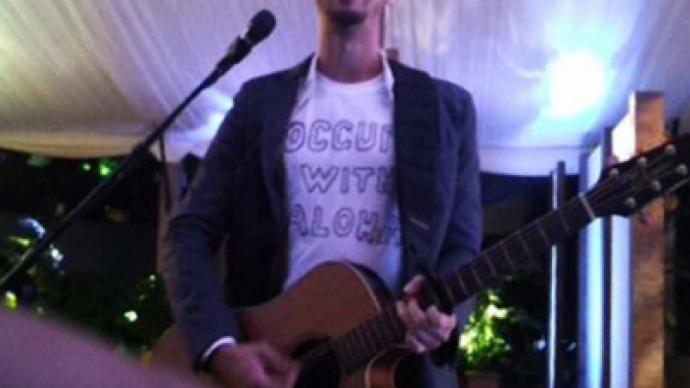 President Obama and APEC leaders attended a stately dinner in Hawaii on Saturday, when the official entertainment took a turn for the unexpected as a musician chosen to perform for guests offered up an extended version of a fiery protest song.
Singer and guitarist Makana was picked to play a luau over the weekend during the APEC summit in Honolulu, whose attendees included hometown hero Barack Obama and family, as well as Chinese President Hu Jintao and Russian President Dmitry Medvedev. The musician abandoned the idea of performing any traditional party tunes from the eminent audience, however, instead entertaining them with a marathon acoustic rendition of "We Are The Many," a track Makana released only a day earlier and invokes the spirit of the Occupy Wall Street Movement. For 45 minutes, Makana sang the tune for the guests, wavering in and out of different tempos to deter any suspicion the attendees might have over the song's lyrical content, which he was almost certain would raise some eyebrows. The refrain of "We Are the Many," which Makana reverted to several times throughout the performance, boasts the lyrics: "We'll occupy the streets, we'll occupy the courts, we'll occupy the offices of you, till you do the bidding of the many, not the few."Makana began his set wearing a suit but during his performance unbuttoned his jacket to reveal a homemade t-shirt inscribed with the slogan "Occupy with Aloha.""I was pretty nervous. In fact I was terrified. I kept thinking 'what are the consequences going to be?" Makana tells AFP."I found that I was afraid to do it at first," says the singer. "I found that disturbing. That is kind of why I did it. I didn't like the idea of being afraid to sing a song that I created."Among the lyrics of Makana's latest offering is also the line, "The time has come for us to voice our rage,"something that might not have made it past the president's censors had the singer not snuck it in."If that's what we've come to in this world, where you're afraid to say certain things in the company of certain people, I think that's a dangerous place to be. So for me to move out of that space I had to sing the song and that's what I did," says Makana.
You can share this story on social media: