Occupy Comics: Guy Fawkes artist steals Comic-Con
Published time: 13 Jul, 2012 21:40
Edited time: 14 Jul, 2012 01:40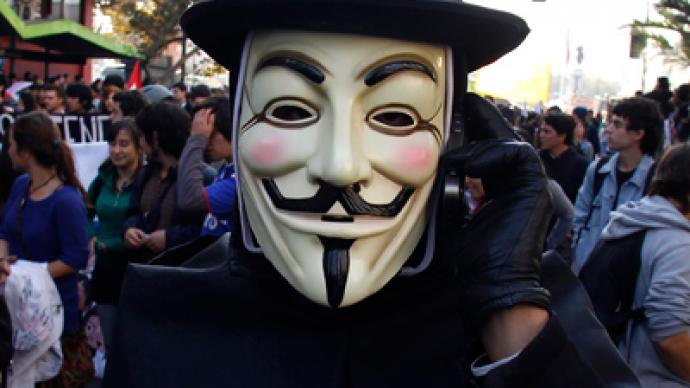 In-between the superheroes and sci-fi nerds, don't be surprised if you see someone involved in either Anonymous or the Occupy movement at this week's Comic-Con. The artist behind an iconic image adopted by both will be at the annual event.
San Diego, California's Comic-Con has been called geeks galore by some, but activists might be making the trip this weekend alongside the usual assortment of attendees. British artist David Lloyd, whose work with the V for Vendetta comic has created an iconic image used by both the hacktivism group Anonymous and members of the Occupy movement will be making his rounds at this week's convention.
Lloyd is scheduled to speak Saturday evening during a panel titled "Occupy Comics: Activism, Kickstarter, and Comics," and tells Wired.com that he is enthusiastically awaiting the event.
"I'm honored to be invited to participate on a panel about one of the most important people's movements in recent history," Lloyd tells the website.
Lloyd was behind the creation of the Guy Fawkes mask that played a central role in Alan Moore's V for Vendetta comic strip in the 1980s, which was later adapted on the big screen for the blockbuster film of the same name. In the years since, though, that same iconic facemask has become a calling card of both Occupy and Anonymous. Now Lloyd will have a chance to discuss how his work has transcended into a whole new culture by discussing his role in Occupy Comics, which explains on the official website is "an attempt to add the voices of comic book artists and writers to the chorus of 'We are the 99 percent.'"
The page for this weekend's panel explains that Lloyd will join other artists to "discuss counterculture art, creating activist comics without being annoying, and tips on how to fundraise for your own comics."
"When we started Occupy Comics, we thought it might be a necessary time capsule for maybe 20 years from now, when people have forgotten about Occupy," Black Mask Studios president Matt Pizzolo tells Wired. "But this project is vital now, since so many news outlets have stopped covering the movement, even as new scandals such as Libor emerge and demonstrate things are only getting worse."