Another key Obamacare provision delayed until 2015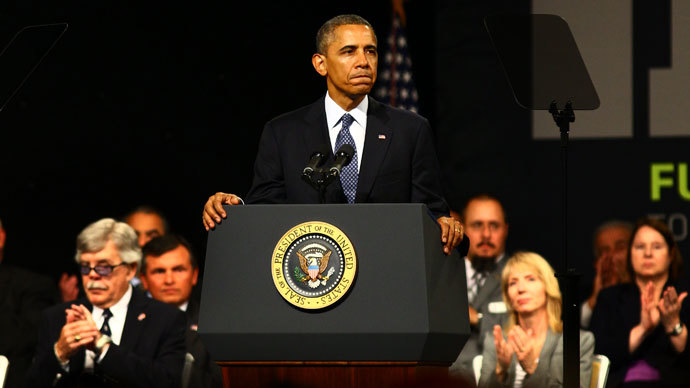 Hidden in a maze of legal jargon is another key provision of Obamacare: the administration has delayed a consumer protection law that sets limits on the costs of health care, giving some insurers the option to raise prices until 2015.
The consumer protection law was created to limit out-of-pocket healthcare costs, such as co-pays and deductibles, to $6,350 for an individual and $12,700 for a family – but under the long-unnoticed provision, these limits will be delayed for one year.
The year-long grace period will allow certain insurance companies to set higher limits or no limits on the cost of health care when the Affordable Care Act goes into effect in 2014. With no limits, American consumers might be required to pay $6,350 a year for doctor and hospital care, as well as an extra $6,350 for a prescription drug plan – and for some, these costs might be even higher.
Federal officials confirmed the one year delay in implementing the consumer protection law to the New York Times, explaining that it is necessary to give certain insurers and employers more time to comply with President Barack Obama's hallmark health care legislation, since many of them use multiple companies to provide medical care and benefits. Sometimes, these companies cannot communicate with one another through their computer systems, thus making it difficult to coordinate to come up with a combined out-of-pocket limit.
A senior administration official defended the year-long consumer protection delay, telling the Times that "we had to balance the interests of consumers with concerns of health plan sponsors and carriers, which told us that their computer systems were not set up to aggregate all of a person's out-of-pocket costs."
Avik Roy, a Forbes contributor, argued that the delay solely benefits insurers and employers, and has no benefit for individuals hoping for affordable health care.
"Exactly how is it in consumers' interests to pay far more for health insurance than they already do?" he wrote. "It's not. Unless you have a serious, chronic condition, in which care you may benefit from the fact that law forces healthy people to subsidize your care. To progressives, this is a holy grail. But for economically rationed individuals, it's yet another reason to drop out of the insurance market altogether."
The delay was noted on the Department of Labor's website since February, but went unnoticed until this week, buried in legal jargon and confusing bureaucratic language. The revelation comes just a few weeks before the opening of health care exchanges on October 1, and a few months before the Affordable Care Act takes effect in 2014.  Republicans and Obamacare critics are continuing to fight its implementation, and House Republicans have voted 40 times to remove it.
News of the delay on out-of-pocket limits has been particularly outrageous for critics, since the president previously pledged to keep costs low.
"We'll place a limit on how much you can be charged for out-of-pocket expenses, because no one in America should go broke because they get sick," President Barack Obama said in a weekly address in 2009 – a promise that he repeated on at least one other occasion. 
Theodore M. Thompson, a vice president of the National Multiple Sclerosis Society, told the Times that his organization supported Obamacare because of its promise to help patients suffering from conditions requiring expensive treatments, such as cancer and Multiple Sclerosis.
"The promise of out-of-pocket limits was one of the main reasons we supported health reform," he said. "So we are disappointed that some plans will be allowed to have multiple out-of-pocket limits in 2014."
You can share this story on social media: