South Carolina bill criminalizes Obamacare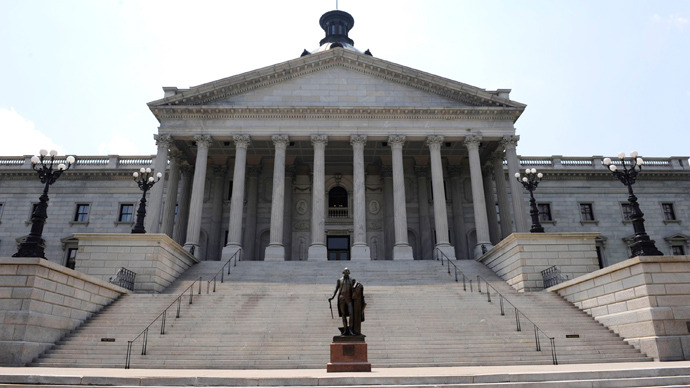 South Carolina's state House has passed a bill that would nullify President Obama's Affordable Care Act and make its implementation a crime.
The South Carolina Freedom of Health Care Protection Act, also known as the "nullification bill", was passed 65-39 by the Republican-dominated House on Wednesday. The bill would "prohibit certain individuals from enforcing or attempting to enforce such unconstitutional laws; and to establish criminal penalties and civil liability for enforcing this article."
Even though the Supreme Court ruled that the Affordable Care Act is constitutional, the state legislation would declare the federal law "null and void" and prosecute those who try to implement it.
Under the nullification bill, the South Carolina State Attorney General would be able "to restrain by temporary retraining order, temporary injunction, or permanent injunction" anyone who is believed to be "causing harm" by violating public interest and trying to implement the federal law.
South Carolina residents who are forced to pay Obamacare taxes "shall receive a deduction in the exact amount of the taxes or penalty paid the federal government,"  the bill states. The measure would also outlaw local governments from creating or working with non-profit health care exchanges, which the Obama administration designed in order to help small businesses provide insurance.
Obamacare has been heavily criticized by in South Carolina, with Gov. Nikki Haley promising that the state will not allow its implementation.
"Connecticut expanded early under 'Obamacare' and just reported a $190 million Medicaid deficit – in spite of subjecting their citizens to a massive tax increase," she said during her State of the State address. "California just raised taxes in part to cover their Medicaid deficit and yet needs $350 million more to pay for 'Obamacare' next year. That's not us. That's not South Carolina."
The Affordable Care Act, Haley explained, will simply cause South Carolina taxpayers to spend money they cannot afford, "not now, not ever."
"To that end, we will not pursue the type of government-run health exchanges being forced on us by Washington," she said. "Despite the rose-colored rhetoric coming out of DC, these exchanges are nothing more than a way to make the state do the federal government's bidding in spending massive amounts of taxpayer dollars on insurance subsidies that we can't afford."
The Greenville Tea Party has hailed the House passage of the nullification bill as a triumph in their fight against the Affordable Care Act, with spokesman Chris Lawton expressing his pride for the move.
"This kind of victory occurs when the grassroots across the State come together and coalesce," he told The Greenville Post. "I could not be prouder."
The nullification bill will now move to the state Senate, where the Republican Party is also the majority. Most major provisions of the Affordable Care Act are scheduled to go in effect by January 2014.
You can share this story on social media: