'Affordable' care: 7 million to lose insurance under new health care law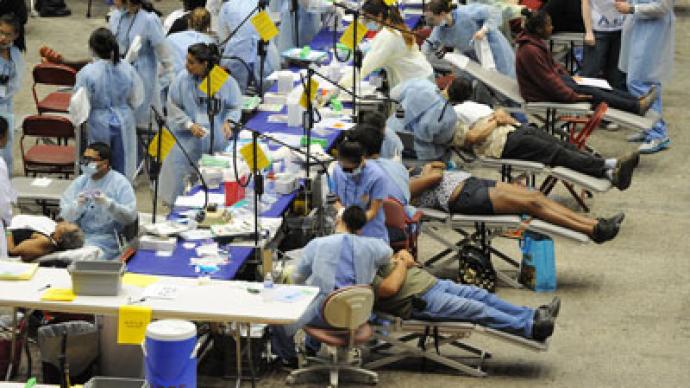 Most of US President Barack Obama's hallmark health care reform law will go into place next year, but a new bipartisan review suggests it will be a slow start for the program.
In an analysis released this week, the Congressional Budget Office (CBO) writes that last-minute tax changes enacted to avoid the looming fiscal cliff dilemma will largely impact who is covered and how they will be insured under the Patient Protection and Affordable Care Act, the president's highly touted bill that has been renamed 'Obamacare' by its critics.According to the CBO, maneuvers made last month to avoid a financial meltdown are likely to have made significant changes to how the president's health care bill will work. Perhaps most significant, tax cut revisions made last month could move as many as 7 million Americans out of their job-based insurance coverage and leave them to either remain uninsured or attempt to navigate a system still ripe with kinks. Tax cuts that were went into effect just this year alter the incentives for employers who offer health insurance, the Washington Times reports, creating a "less attractive" model that is likely to lead to fewer companies extending health care to employees."Instead, they'll choose to pay a penalty to the government, totaling $13 billion in higher fees over the next decade," Stephen Dinan writes for the Times.Previous estimates had suggested that only around 4 million Americans would be displaced of their insurance through Obamacare.It won't end with just more workers being driven out of insurance plans than expected, though. According to the CBO's analysis, not only will more companies be likely to stop extending insurance coverage to workers, but also the number of already uninsured persons who will be able to receive assistance is expected to dwindle. But while some reviews of the CBO's findings single out the fact that millions of more Americans will become uninsured than last thought as the biggest take away from the report, others say it's just the tip of the iceberg: additionally, those seeking coverage are expected to have a harder time securing health care thanks to a series of snafus that will complicate matters for the uninsured."[T]he report suggests that the new health insurance marketplaces set to launch later this year are unlikely to be completely ready in time," Margot Sanger-Katz writes for the National Journal. The marketplace, explains that report, "will be the place where individuals, families and small businesses can shop for insurance using tax credits." If the marketplace isn't ready to roll out in time, though, millions of Americans without health care will be left with little opportunity at first to purchase coverage. That, of course, on top of the prediction that fewer employers will offer coverage and millions of additional employees will be told to find insurance on their own. The CBO predicts that instead of 32 million to 34 million new people getting insurance by 2017, only around 27 million people will be covered by that point in time."They view the odds of success as diminishing sharply," Douglas Holtz-Eakin, a former CBO director, adds to the National Journal.
You can share this story on social media: