Obama's rating worse than Bush's, worst since Nixon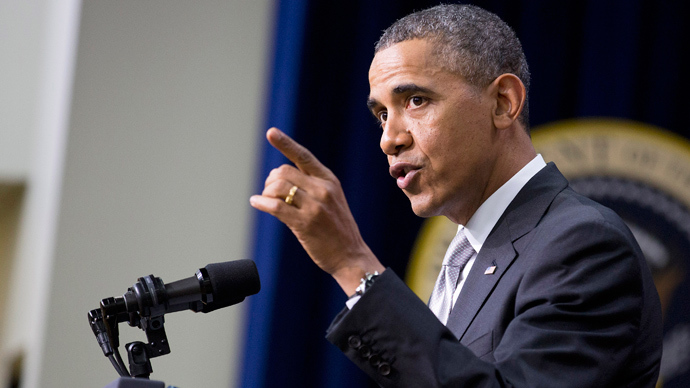 As the end of the year approaches, President Barack Obama is suffering the worst approval rating at this point in a two-term presidency since the Nixon administration.
According to a new Washington Post/ABC News poll, Obama's approval rating stands at 43 percent, an 11-point drop from the same point last year. The poll found that 55 percent of Americans disapprove of the president's performance, a sharp rise compared to 42 percent last year.
What's more, Obama's approval rating is even lower than President George W. Bush's at this point in his presidency. By the end of Bush's fifth year in office, roughly 47 percent of Americans approved of his performance, four points more than Obama currently enjoys. Of all post-World War II presidents, only President Richard Nixon faced worse numbers at this point in his second term – a brutal 29 percent thanks to the damaging Watergate scandal.
As another point of reference, Obama's approval rating stood at 49 percent when Republicans took control of the House of Representatives and narrowed Democrats' supermajority in the Senate in 2010.
Last week, a CBS News/New York Times poll pegged Obama with a 42 percent approval rating.
The sinking numbers have been linked to gridlock in Washington, the controversial surveillance program run by the National Security Agency, as well as the terrible rollout of the Affordable Care Act's Healthcare.gov website, which has only recently shown signs of improvement. Only 34 percent of Americans approve of the way the ACA has been implemented so far, though Obama is still favored on the issue against Congressional Republicans by a 42 - 37 percent margin.
The Post/ABC poll also found the president tied with his opponents on the issue of who could be trusted more to deal with the nation's problems: Both Obama and Congressional Republicans stood at 41 percent. Meanwhile, Republicans are currently favored 45 - 41 percent against Obama when it comes to who could better handle the economy.
Whether or not the poll's results indicate movement concerning next year's midterm elections remains to be seen, but the eight-point advantage Democrats enjoyed over Republicans during the government shutdown has all but disappeared. Forty-seven percent of voters now say they'd vote for a Democrat on a "generic ballot" in 2014, while 45 percent leaned Republican
You can share this story on social media: