US to upgrade nuke arsenal while cutting nonproliferation efforts – report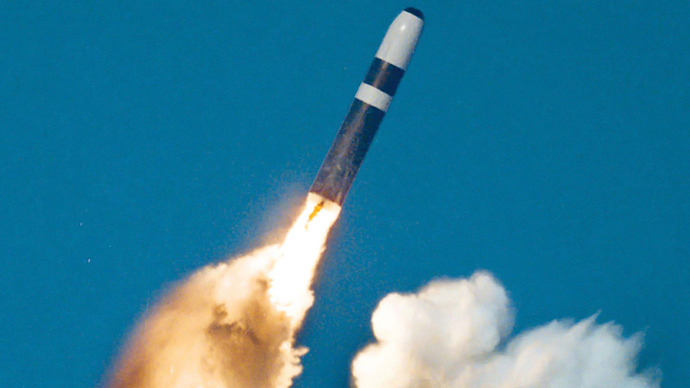 In the face of looming budget cuts, the Obama administration reportedly wants to reduce spending on nuclear nonproliferation efforts while continuing to upgrade America's atomic weapons arsenal.
The planned changes in funding are to be revealed Wednesday when the White House proposes its 2014 federal budget, according to Foreign Policy magazine.
Under the proposal, the US Department of Energy's (DOE) nuclear weapons-related programs would see a roughly 7 percent boost of around $500 million, Foreign Policy quoted anonymous officials as saying. The current budget for these programs stands at more than $7 billion.
At the same time, the DOE's nonproliferation programs would be cut by around 20 percent, or some $460 million, the report said; these programs currently receive $2.45 billion a year.
The new spending would reportedly be for an upgrade of older nuclear warheads, and to help fund construction of a uranium processing plant in Tennessee. The modernization program is part of Obama's deal with Congress as part of the New Start (Strategic Arms Reduction Treaty) pact with Russia. Lawmakers agreed to back the reduction of the number of nuclear warheads in US arsenals if those remaining in service are upgraded.
Much of the reduction in nonproliferation spending would bet cut from a half-complete plant designed to process excess plutonium from decommissioned warheads into fuel for civilian reactors. Other programs aiming at securing loose fissile materials overseas and preventing the illegal trade of WMD technology would also be trimmed.
The only category of the DOE's nonproliferation activities that would see an increase in spending is research and development, in order to finance the development of a satellite-based nuclear detonation sensor, Foreign Policy reported.
The proposed changes are due to overall cuts across the federal budget. On top of that, the DOE's programs reportedly suffered from mismanagement and overspending. The department turned to the Pentagon to cover the cost overruns on its W76 warhead upgrade programs, but received only $3 billion of the $7 billion requested, Foreign Policy said.
The 2014 budget proposal is likely to be billions of dollars higher than the spending caps mandated by the 2011 Budget Control Act. It is expected to see strong opposition from lawmakers. The White House and Congress have battled for two years over budgetary issues, and so far have failed to reach common ground.
Meanwhile, the Pentagon is struggling to cope with austerity measures by cutting spending not related to active duty troops. The Navy announced Tuesday that it is grounding its renowned Blue Angels precision flying team for the remainder of 2013 show season. The cancellation of 33 shows would save an estimated $28 million. A similar move by the Air Force grounded its Thunderbirds exhibition flying team as of April 1.
You can share this story on social media: