P5+1 must win Iran's trust, hostility is counterproductive – Jalili
Iran's nuclear talks in Kazakhstan have brought no breakthrough, with Tehran urging the group of six world powers to win the trust of the Iranian people. Hostile rhetoric towards Tehran is 'counterproductive,' Iran's chief negotiator stated.
The process of building trust is "a two-way traffic" and Tehran "has taken quite a few steps to create trust," stated head of Iranian delegation Saeed Jalili, secretary of the country's Supreme National Security Council.

"When we talk about building confidence it must not be translated to be a denial of rights of any nation, rather it must be related to behavior and conduct that helps to facilitate cooperation between the two parties," the official said later, in an interview with RT Arabic.
While, US Secretary of State John Kerry said that negotiations with Tehran would continue, but stressed that "this is not an interminable process."

Saeed Jalili headed the Iranian delegation at the two-day talks in the Kazakh city of Almaty, which wrapped up on Saturday.

Iran and the 5+1 group - the United States, Russia, China, France, Britain and Germany – have yet again attempted to come to a compromise over Tehran's controversial nuclear program. Iran maintains that it needs atomic energy for purely peaceful purposes – such as medicine, energy and science. The international community has concerns on the matter as the republic's 20 percent enriched uranium is just a step away from weapons-grade.

"Over two days of talks we had long and intensive discussions on the issues addressed in our confidence-building proposal," European Union foreign policy chief Catherine Ashton told journalists. "It became clear that our positions remain far apart," she added.

Iran's Jalili was more positive in his assessment of the gathering. He admitted that the sides do have some differences. However, during this latest gathering in Almaty they got a chance to discuss two different sets of proposals regarding Iran's nuclear program that had been put forward by Tehran and the six countries.

Jalili reiterated Tehran's stance that enrichment of uranium – "whether we're talking about 5% or 20%" - is the republic's "part and parcel." Still, this issue "may become an element of building and strengthening confidence," he noted as cited by Interfax.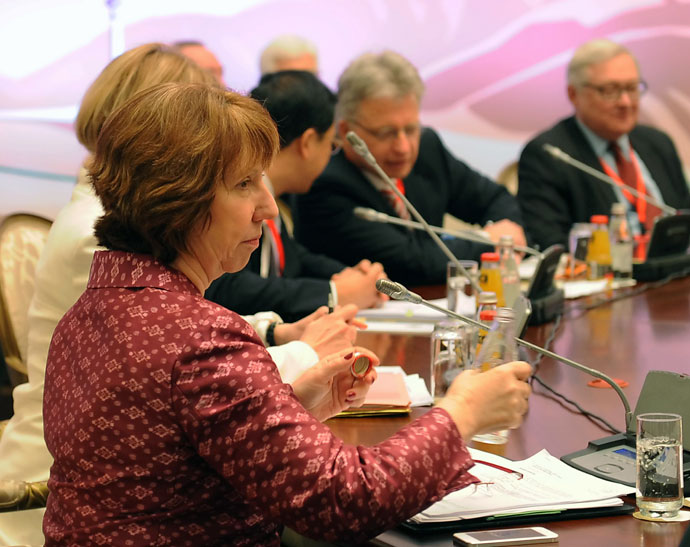 "What goes beyond the needs of Iranian people can be a subject for cooperation, " the Iranian official later told RT.
Moscow agrees that it is necessary to recognize all rights of the Islamic republic, including its right to enrich uranium in exchange for Iran agreeing to comprehensive control of its nuclear program by the International Atomic Energy Agency (IAEA).  Russia considers unfair some views of Western partners regarding the issue, Russian Deputy Foreign Minister Sergey Ryabkov said.   
"Russia says clearly the recognition of all rights of Iran under [the Treaty on the Non-Proliferation of Nuclear Weapons,] including the right to enrichment in exchange for the IAEA control over Iran's nuclear program, is the final model. This can be spread out to any depth ," he said, as cited by Itar-Tass agency. If that deal is reached, all sanctions against Iran should be lifted.
However, the diplomat added that Iran has a different opinion on the succession of steps and uses different terms during the talks. This was the source of the disagreements at the talks in Almaty, Ryabkov observed. But Moscow hopes that the next round of nuclear talks on Iran will bring a breakthrough.
For now, it was agreed that negotiators would go back to their capitals "to evaluate where we stand on the process," Ashton said, adding that she would be in touch with Jalili "very soon in order to see how to go forward." So far, no date or place has been set for new talks.
US sanctions yield no results

Tehran believes that the US government should review the tone it has been using with Iran in past decades.

"The US government must appreciate that the behavior they have shown in the past decades towards the Iranian people produced nothing," Jalili told RT Arabic.

Since the 1979 Iranian Revolution and the overthrow of the Pahlavi dynasty, "when the Iranian people toppled the dictatorship and democratically elected their own government, various US administrations have been hostile to Iranian people," the Iranian negotiator said.  Particularly within past two years, Washington has been taking hostile actions against the Islamic republic, "including the introduction of sanctions," Jalili noted.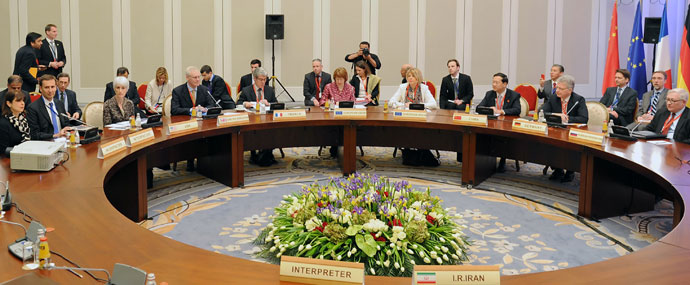 Iran managed to turn that pressure "into opportunities." The country progressed in its scientific development and is currently "the 17th largest economy in the world," Jalili said.
In his opinion, the US failed to achieve any success through the path it's taken. On the contrary, by imposing economic sanctions America "denied opportunities" for its own citizens to do business with "
You can share this story on social media: