Obama and Netanyahu upbeat (again) on Middle East peace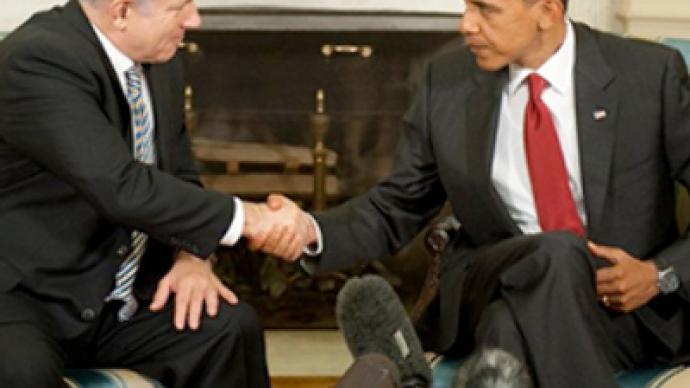 The Israeli and American leaders have told separate meetings that peace in the Middle East may be possible "soon," but Barack Obama admitted the process would be "wrenching."
US President Barack Obama told an Israeli television channel that he believes there can be a Middle East peace deal by the end of his present term, but "it's going to be wrenching."
In an interview conducted Wednesday with Channel 2 Israel that was made public on Thursday, Obama said the Israeli people would have to overcome their "skepticism and fears" before any peace deal comes to fruition.
"The Israeli people are going to have to overcome legitimate skepticism and more than legitimate fears in order to get a change that I think will secure Israel for another 60 years," Obama said.
In response to questions concerning the "distrust" that a surprisingly high percentage of Israeli citizens report for the American president, Obama said that "some of it may just be the fact that my middle name is Hussein, and that creates suspicion."
He then went slightly on the defensive, alluding to several high-ranking officials in his administration who are Jewish.
"Ironically, I've got a chief of staff named Rahm Israel Emanuel. My top political adviser is somebody who is a descendant of Holocaust survivors," Obama said, before candidly revealing that his "closeness to the Jewish-American community" was probably what lifted him into the US Senate in the first place.
Before the Israeli people accept any peace plan brokered with the assistance of Barack Obama, they will want to know exactly where his interests lay and that inquisitiveness came through in the interview.
"I think that sometimes, particularly in the Middle East, there's the feeling of 'The friend of my enemy must be my enemy' and the truth of the matter is that my outreach to the Muslim community is designed precisely to reduce the antagonism and the dangers posed by a hostile Muslim world to Israel and to the West," Obama said in comments that were meant to allay the Israeli public.
More empty promises?
On Tuesday, Obama and Netanyahu met at the White House where they attempted to downplay their falling out in recent months. The meeting – the fifth since Netanyahu took office in spring – had no shortage of smiles and handshaking for the benefit of the cameras. But was it just another round of photo opportunities to conceal deep fissures in the "special relationship"?
Netanyahu refuted those suggestions, paraphrasing American humorist Mark Twain by noting that reports of the demise of the special US-Israeli relationship "aren't just premature, they're just flat wrong."
Yet the Israeli prime minister understands that Washington is losing patience over the question of Palestinian statehood and that peace talks must begin again soon.
"The president and I discussed concrete steps that could be done now – in the coming days, in the coming weeks – to move the peace process further along in a very robust way," Netanyahu said.
We have heard such hopeful phrases many times in the past, but all to no avail. Is there any reason this time around to expect that things will be any different? Can we hold out hope that Benjamin Netanyahu, the hawkish leader of the Likud Party, will be the man who agrees to give the Palestinian people their own flag on their own land?
Barack Obama seems to think so, and said in his interview with Israeli media that Benjamin Netanyahu might be "well positioned" to bring about a deal with the Palestinians because of his reputation as a conservative "hawk".
In other words, Netanyahu, who is really the last person to agree to a peace agreement that places Israel at any sort of a disadvantage, has the influence and the clout to rally both the left and the right of Israel's political spectrum to support the vision of a Palestinian state.
"I think we should seize the moment," Netanyahu said in a speech on Thursday at the Council of Foreign Relations, an influential US think-tank. "And it is a challenging moment and an important moment. We have the ability to negotiate a peace."
"And I'm prepared to take risks," Netanyahu added, while stressing that would not agree to anything that would compromise Israel's security.
"But we have to get on with it. We should just stop all the delays and start now, next week, in two weeks – get the talks going. Because only if we start them, we can complete them."
Another part of Netanyahu's speech, however, suggested that the audience was being served yesterday's warmed-up leftovers for public consumption.
When questioned on the 10-month freeze on new Jewish settlement construction in East Jerusalem – which the Palestinians envision as the capital of their state – Netanyahu balked, saying he would not extend beyond September the building moratorium.
"I think we've done enough. Let's get on with the talks," Netanyahu said in regards to his soon-to-expired moratorium.
It should be mentioned that a new report by the Israeli group B'Tselem says that Jewish settlements now control more than 42 % of the West Bank. The group explained that the actual buildings of the settlements make up just 1% of the West Bank's land area, but their jurisdiction extends far beyond that.
Netanyahu's coalition government is top-heavy with pro-settler parties, which would make any attempt at indefinitely halting construction in the West Bank politically risky, if not altogether impossible. After all, one of the main conditions that the Palestinians have for continuing with direct talks is that all new settlement construction in East Jerusalem comes to an end.
Unless Israel promises to stop building new settlements in the contested lands, with all the political hazards that such a move would involve (there would certainly be big demonstrations, violence and arrests, as have occurred on other occasions) there would be very little hope of lasting peace.
Yet Netanyahu insisted that he intends "to confound the skeptics and critics" who doubt his commitment to a workable peace deal.
During an interview yesterday on CNN's "Larry King Live," Netanyahu said, rather contrarily, that Jewish settlements would be among the first topics of discussion if Palestinian Authority President Mahmoud Abbas dropped his demand for a freeze on construction of West Bank settlements as a precondition for beginning direct talks.
"One of the things we will discuss right away is this issue of settlements," Netanyahu said. "Let's just get down and talk."
In other words, the Palestinians should allow the Israelis to continue building new settlements on the intended spot of the Palestinian capital as a condition for continuing peace talks. And if the Palestinians do not agree to these contradictory conditions, well, nobody can say Mr. Netanyahu did not try.
You can share this story on social media: