Obama: 'Ideal' Iran deal not possible, we have to be realistic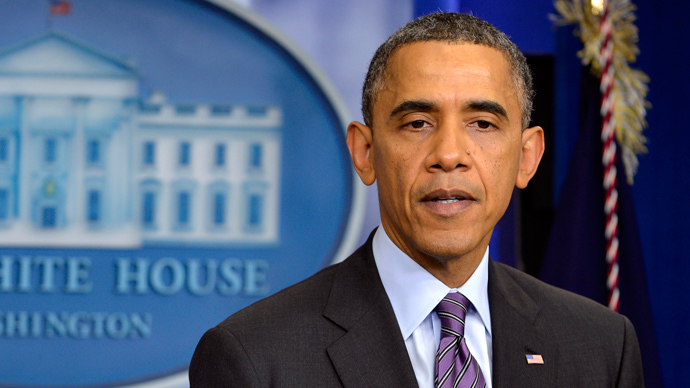 US President Barack Obama defended the interim deal with Iran to curb its nuclear program saying the international community should be realistic, and sought to reassure Israel saying the future agreement would contain enough "safeguards".
Speaking at the Brookings Institution Saban Forum in Washington on Saturday, Obama said that an agreement with Tehran was going to be better than the alternatives.
He also said a final deal was possible, which included enough verification safeguards, which would satisfy all foreign powers that Tehran could not build a nuclear bomb.
Obama indicated that a future deal could include a capability for Iran to enrich uranium for peaceful purposes, but that their nuclear program would be under sufficient international scrutiny to ensure that Tehran is kept from "breakout" capacity where it could race to build an atomic bomb.
"One can envision an ideal world in which Iran said, 'We'll destroy every element and facility and you name it, it's all gone.' I can envision a world which Congress passed every one of my bills that I put forward. I mean, there are a lot of things that I can envision that would be wonderful," Obama said jokingly.
"But precisely because we don't trust the nature of the Iranian regime, I think that we have to be more realistic and ask ourselves: what puts us in a strong position to assure ourselves that Iran's not having a nuclear weapon ... what is required to accomplish that and how does that compare to other options that we might take?" he added.
Obama continued that calls from Israel for a complete halt to enrichment on Iranian soil were not within reach but that any future deal brokered with Tehran would not permit underground fortified facilities or advanced centrifuges.
"If you asked me what is the likelihood that we're able to arrive at the end state that I was just describing earlier, I wouldn't say that it's more than 50/50," Obama concluded. "But we have to try."
US relations with Israel have been strained since the interim deal was reached last month between Iran and six world powers, the US, Russia, China, Britain, France and Germany.
The agreement is designed to give the international community time to see if Tehran is serious about curbing its nuclear ambitions while providing some relief form the sanctions that have crippled the Iranian economy.
Israeli Prime Minister Benjamin Netanyahu called the deal reached in Geneva an "historic mistake" and believes that giving any sanctions relief is dangerous.
In response to Obama's comments Netanyahu warned Sunday that the international community should be "beware" of Iran's intentions and insisted that any final accord must secure that "termination of Iran's military nuclear capability".
"The Jury is still out, Iran is perilously close to crossing the nuclear threshold," he said.
Economic boost after partial lifting of sanctions
Iranian President Hassan Rouhani announced Sunday that the partial sanctions relief agreed in last month's pact has already boosted the country's economy. He said that investors were now gravitating towards the stock exchange.
"Economic activities have been shifted to the stock exchange from gold, hard currency and real estate," he said.
The modest sanction relief agreed with the world's powers last month will amount to just $7 billion, just 7% of Iran's overseas cash, which remains frozen.
However, the deal is the first step towards economic normalcy and is already having a psychological effect, which could boost markets.
New uranium enrichment technology
A spokesman for Iran's atomic energy agency, Behrouz Kamalvandi, said Saturday that Iran has provided the International Atomic energy Agency (IAEA) with details of a new generation of centrifuges to enrich uranium.
He said that after initial testing on the new generation of more sophisticated centrifuges had been completed they would be used to make fuel for Iran's planned network of nuclear power plants.
He added that Iran will continue with the research and development needed to fuel the country's nuclear reactors used for electricity production and in medical research and that this development was in accordance with the action plan signed by Iran's Atomic Energy Organization (IAEO) the IAEA.
In a separate development, IAEA inspectors will begin a visit Sunday to a heavy water reactor at Arak, which could produce plutonium.
You can share this story on social media: