'Respect red lines': Hopes, skepticism as deal expected in Iran nuclear talks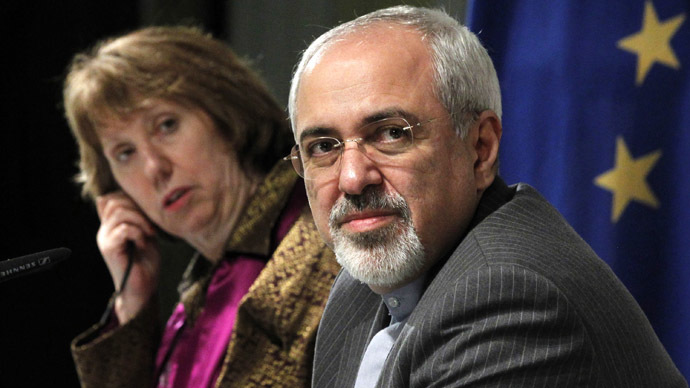 Iran and members of the P5+1 group met on an interim nuclear deal for less than 10 minutes Wednesday. The elusive agreement may be within reach, Iran and Russia hope, but some of the other countries involved in the talks are less optimistic.
A deal could see controversial Iran's nuclear program put on hold for six months, in exchange for Western nations lifting sanctions. A deal could net Iran some $10 billion in unfrozen assets and trade revenue and also pave the way for a permanent treaty to resolve the longstanding dispute.
The issue of whether Iran will ultimately be allowed to enrich uranium is not be decided under the temporary deal being discussed, US Secretary of State John Kerry told reporters on Wednesday. 
"Whatever a country decides or doesn't decide to do, or is allowed to do under the rules, depends on a negotiation," he said, cited by Reuters. "We are at the initial stage of determining whether or not there is a first step that could be taken, and that certainly will not be resolved in any first step, I can assure you."

The previous round of talks in Geneva two weeks ago was widely expected to produce an agreement, but failed to do so at the last moment. Some blamed French intervention for the obstacle, while other commentators speculated that it was Tehran's fault. Nevertheless, senior diplomats from Britain, China, France, Germany, Russia and the US are back at the negotiating table with Iranian representatives in Geneva.
As the new round of talks was about to start, opinion was mixed about their prospects. Senior Russian officials from President Vladimir Puitin on down have said in the last few days that the deal was almost ready agreed and just required signing.
"We hope the efforts that are being made will be crowned with success at the meeting that opens today in Geneva," Foreign Minister Sergey Lavrov said Wednesday.
British Foreign Secretary William Hague told a news conference in Istanbul on Wednesday that "the differences between the parties are narrow and I believe they can be bridged with political will and commitment."

"This is an historic opportunity to build agreement on how to curb nuclear proliferation in the Middle East and potentially to set our relations with Iran on a different path. It is the best chance for a long time to make progress on one of the gravest problems in foreign policy," he said.
Similar optimistic statements came from the Iranians.

"I am going to Geneva with the determination to come out with an agreement at the end of this round," Iran's Foreign Minister, Mohammad Javad Zarif, said in a statement posted on YouTube. "I think there is every possibility for success."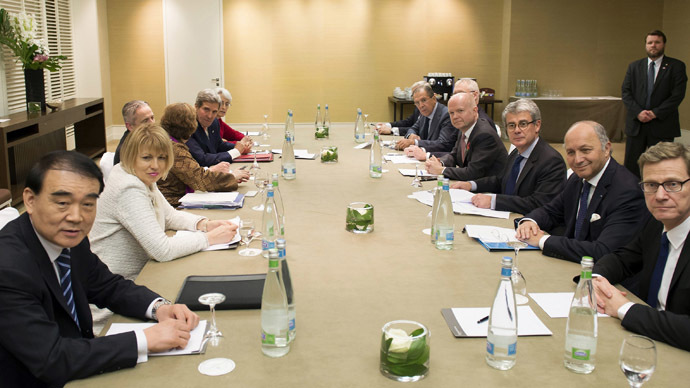 Western countries remain more skeptical, however. US President Barack Obama said he wasn't sure whether the negotiators "will be able to able to close a deal this week or next week."
His skepticism may be explained by pressure from legislators and lobbyist groups in the US, who oppose a deal with Iran and are even calling for more sanctions, hoping that this will force Tehran to shut down its nuclear program unconditionally.
Opponents to dealing with the US are abundant in Iran too. On Wednesday, Iranian Supreme Leader Ayatollah Ali Khamenei told members of the Basij militia that "we are not hostile towards the people of America, they are similar to all other peoples." But his words were met with traditional chants of "Death to America" from the militia.
Speaking about the Geneva talks, Khamenei said he hadn't a direct personal say on what the Iranian delegation's negotiating position would be, but had drawn red lines for them. "Iran will not step one iota back from its nuclear rights," Khamenei said.
He also lashed out at France, the country Iran blames for the failure of the previous round of talks, saying that officials in Paris were "not only succumbing to the United States, but they are kneeling before the Israeli regime."
These comments prompted a quick rebuke from Paris. French government spokeswoman Najat Vallaud-Belkacem said it was "unacceptable" and complicated the talks.
As the talks opened in Switzerland, one of Iran's fiercest critics, Israeli Prime Minister Benjamin Netanyahu, was scheduled to begin a visit to President Vladimir Putin in Moscow later Wednesday.
Prominent Israeli politician and Likud party member Tzachi Hanegbi explained that Netanyahu's visit to Russia was of major importance.
"They are very influential. Even though it might not have an effect on Geneva, we feel the dialogue between us and the Russians on this is enormously important," Hanegbi told the Jerusalem Post.
Seyed Mostafa Khoshcheshm, from the English Department of Iran's Fars News agency, told RT that Netanyahu "could not offer anything to Moscow that would replace Iran's companionship, solidarity or alliance with Russia."

Khoshcheshm said Netanyahu's attempts to pressure Russia are part and parcel of a broader, global campaign to scuttle a nuclear deal with Iran.
"As we are approaching a deal between the two sides, it's very probable for the last time, Israel is increasing its activities throughout the world, meeting with different world leaders, in order to convince them that if they struck a deal with Iran, it will not have good consequences for the region because Israel will embark on some belligerent actions."

You can share this story on social media: