Hollande backs Israel on Iran nuclear deal, pledges to keep 'demands and sanctions' in place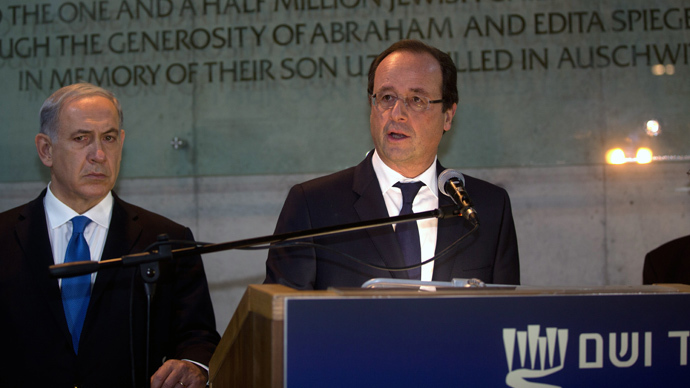 French President Francois Hollande assured Israel on Sunday that France will oppose the easing of sanctions on Iran until it is certain that Tehran has ended its pursuit of nuclear weapons.
"France will not give way on nuclear proliferation. So long as we are not certain that Iran has renounced nuclear arms, we will keep in place all our demands and sanctions," Hollande said during a welcoming ceremony at Tel Aviv's airport at the beginning of his three-day visit to Israel.
The French president's words give support to an intense campaign by Israeli Prime Minister Benjamin Netanyahu to toughen the terms of a proposed nuclear deal with Iran ahead of the third round of talks in Geneva this week.

But Iranian policymaker and scholar Seyed Hossein Mousavian told RT that France is blocking a peaceful deal because of unfounded claims by Israel.

"France has blocked the peaceful deal because of Israeli claims. I think this is a historical mistake France is making. It was for twenty years they [Israel] are saying that Iran will possess a nuclear bomb within one year, or two years, therefore it has been proven to the international community that the Israelis are lying," he said.

Iran will likely be the most important subject on the agenda during talks between the Israeli and French leaders. Israel praised France for taking a tough line against Iran during the last round of negotiations on November 7-8. Meanwhile, Tehran has accused Paris of deliberately blocking an agreement.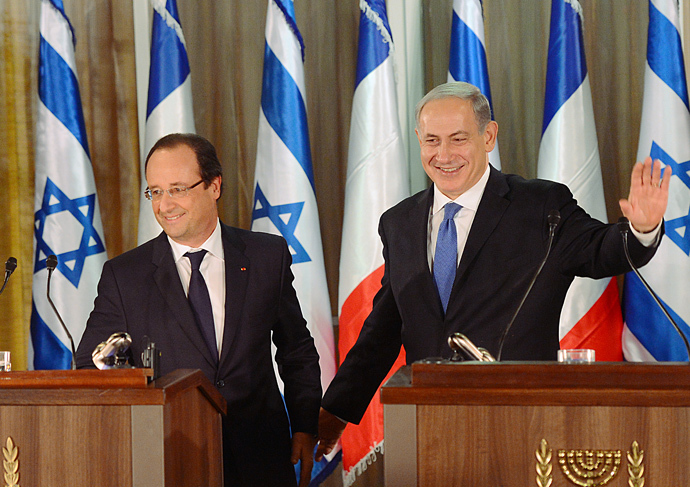 Netanyahu has slammed a proposal to be discussed during the talks - which will resume November 20-23 - whereby economic sanctions on Tehran will be eased if Iran suspends part of its nuclear program.

Netanyahu, known for his lack of tolerance and harsh stance towards the Iranian regime, believes that current measures must not only remain in place, but be strengthened until Iran has dismantled all of its uranium enrichment program. He maintains that until this happens, Iran will have the capability of developing a nuclear bomb.

Certain voices in US Congress are also pushing for tougher sanctions against Iran. Proposed legislation to impose new sanctions could arrive on the Senate floor next week.

US President Barack Obama has urged US lawmakers not to impose new sanctions on Iran while talks are still ongoing. Meanwhile, Secretary of State John Kerry has stirred controversy in Israel by accusing Tel Aviv of overreacting to the proposed deal.   

However, Netanyahu has said that the disagreement with the US is a minor one.

"John Kerry is an old friend of mine and is also a friend of Israel. I want to clarify that even among the best of friends there can be disagreements, certainly on matters that concern our future and our destiny," he said.

A senior US official remained upbeat on the negotiations, stating on Friday that a deal can be reached with Iran.  

"For the first time in nearly a decade, we are getting close to a first step that would stop the Iranian nuclear program from advancing and roll it back in key areas," the official told reporters.

In comments broadcast on Saturday, Russian Foreign Minister Sergey Lavrov said that a preliminary agreement with Iran was near.

You can share this story on social media: