'Limited and reversible relief': Obama not sure Iran nuclear deal will be closed soon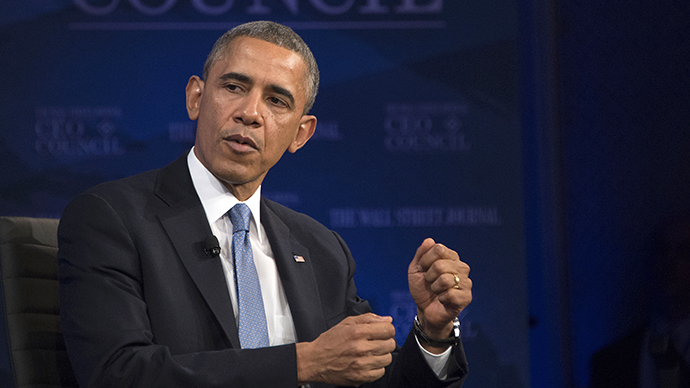 On the eve of nuclear negotiations with Iran, the US administration has announced that it would unfreeze no more than $10 billion of Iran's money under the deal, which Obama warned will not necessarily be closed "this or next week."
US national security adviser, Susan Rice, told CNN that Washington was considering unfreezing less than $10 billion to relax sanctions against Iran. "We're talking about a modest amount of money," Rice said.

In a closed-door meeting at the White House, the US president has once again told senators that the next round of negotiations in Geneva on Wednesday were the best chance of "stopping the advance" of Iran's nuclear program "for the first time in nearly a decade," according to press secretary Jay Carney.

"We have the opportunity to halt the progress of the Iranian program and roll it back in key respects, while testing whether a comprehensive resolution can be achieved," the White House said in a statement.

Obama also told the politicians to hold off on new sanctions and rejected reports that Iran would receive up to $50 billion in sanctions relief.

In exchange for halting Iran's nuclear activity, Carney said, US was willing to offer "limited, temporary and reversible" relief from some sanctions under a P5+1 proposal.

"Part of the reason I have confidence that the sanctions don't fall apart is because we're not doing anything around the most powerful sanctions," Obama said later at an event sponsored by The Wall Street Journal. 
Yet the President warned about being over optimistic, "I don't know if we will be able to able to close a deal this week or next week."

A bipartisan group of six senators has written to Secretary of State John Kerry warning against a possible deal with Iran.

"We are concerned that the interim agreement would require us to make significant concessions before we see Iran demonstrably commit to moving away from developing a nuclear weapons capability," the senators wrote. "We feel strongly that any easing of sanctions along the lines that [the negotiators are] reportedly considering should require Iran to roll back its nuclear program more significantly than now envisioned."

On Tuesday, one of Washington's biggest allies, Britain, reached out to the newly elected Iranian President Hassan Rouhani. David Cameron became the first British leader in more than a decade to telephone an Iranian leader, asking the Islamic Republic to provide "greater transparency" of its nuclear program.

In the conversation both leaders agreed "it was important to seize the opportunity presented" in Geneva, Downing Street said in a statement.

Iran in the meantime is trying to appeal to the international community ahead of the next round of negotiations. 
A video statement was posted on the Iranian Foreign minister's YouTube account on Tuesday defending its "inalienable right" to peaceful atomic use. In a video Iranian FM Mohammad Javad Zarif asks: "What is dignity? What is respect? Are they negotiable? Is there a price tag?"

"For us Iranians nuclear energy is not about joining a club or threatening others," Zarif said in English. It is about "diversifying our economy, about stopping the burning of our oil, and about generating clean power."

Zarif has voiced optimism on the possibility of reaching a new deal. "I think there is every possibility for success," he said after meeting his Italian counterpart Emma Bonino in Rome. "I go to Geneva with the determination to come out with an agreement at the end of this round."

Israel remains the most fervent opponent of a nuclear deal and is continuing its effort to convince the world of Iran's malicious intent.

Speaking in the German press on Tuesday, Israeli prime minister Netanyahu urged the maintenance of sanctions against Tehran, claiming that Iran should provide more transparency and halt the construction of a plutonium reactor in Arak.

"And if they refuse to do so, increase the sanctions," he told Bild newspaper. "Because the options are not a bad deal or war. There is a third option: Keep the pressure up; in fact, increase the pressure."

Accompanied by visiting French President François Hollande in Israel, Netanyahu reiterated that it would be a foolhardy to offer a deal to Iran.

"It would be a great mistake to capitulate before Iran when they have every reason right now to respond to the pressures that have been put on them. Rather than surrendering to their charm offensive, it's important that they surrender to the pressure that can be brought to them to have them abandon their nuclear program," the Israeli PM was quoted by the Jerusalem Post.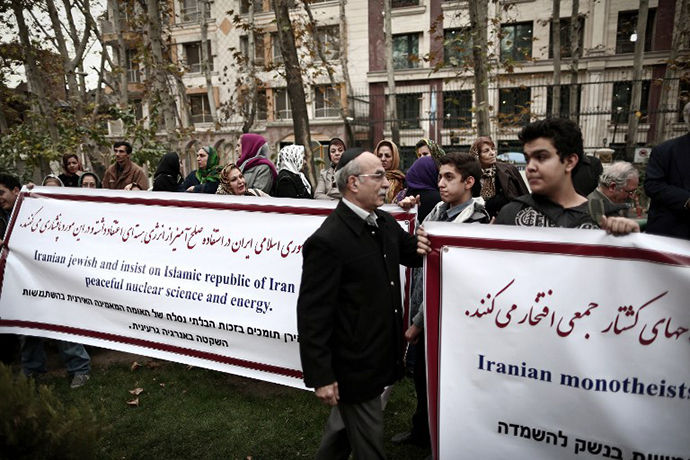 Russia in the meantime remains optimistic that the upcoming talks of the six international mediators with Iran will bring tangible results. Following a phone conversation with the Iranian leader, President Vladimir Putin said on Monday there was a "real chance to find a solution to this longstanding problem."

Netanyahu meanwhile heads to Russia on Wednesday in an effort to influence the Russian voice at the talks.  Prominent Israeli politician and Likud party member Tzachi Hanegbi explained that Israeli visit to Russia was of major importance.

"They are very influential. Even though it might not have an effect on Geneva, we feel the dialogue between us and the Russians on this is enormously important," Hanegbi told the Jerusalem Post.

The P5+1 group is scheduled to meet on Wednesday in Geneva in an effort to negotiate a nuclear deal that would freeze Iran's nuclear program for six months in return for sanctions relief. This deal would then be used to secure a permanent accord.

The first round of talks held in Geneva earlier this month ended in deadlock.

The calls by the P5+1 group for Iran to halt further enrichment activities were among the main sticking points in revived negotiations that kicked off after the Iranian President's visit to the UN General Assembly in New York this September.

The latest proposals on the table require that Iran transfers part of its stockpile of 20 percent enriched uranium to a third country under IAEA custody. The international community also mulled demanding suspension of all operations at the Fordo facility. In addition, the negotiating team requested more transparency from Tehran in addressing allegations of possible military activities that Tehran has repeatedly denied.

In return, the P5 +1 are offering a phased relief from sanctions on precious metals and petrochemicals that have been crippling Iran's economy for decades. P5 + 1 offered to provide fuel assemblies for the Tehran Research Reactor (TRR) with the support of IAEA to maintain safety. The group is also offering to provide medical isotopes for cancer patients and cooperate in acquiring a light water research reactor to produce medical isotopes. The US meanwhile has offered maintenance assistance for the Iranian aviation industry, which too has suffered as a result of sanctions. As part of the discussed deal the international community promised not to introduce any new proliferation related sanctions.

You can share this story on social media: