Obama family vacation could cost America $100k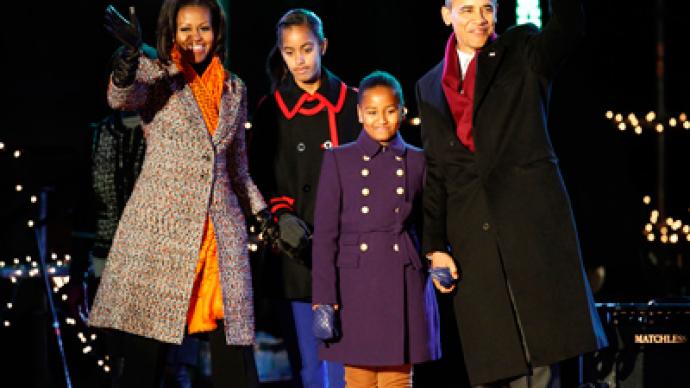 President Barack Obama has told Congress that he will put off plans to fly to Hawaii this holiday if it means lawmakers can cut a deal that will keep taxes down.
The first lady will still enjoy a little fun at America's expense, however, and you're buying.Urging Congress to pass an extension of the payroll tax cut before the new year begins, President Obama said this week that he will forgo his planned vacation to Hawaii if it means it will help iron out a deal that will lessen the woes of the American people. That doesn't mean that the rest of the Obama clan will be kept in DC, though. Michele Obama and the couple's two daughters still intend on flying to Hawaii this season even if it doesn't mean the president will join them.The estimated cost of the Obama's little getaway even without the president? Around $100,000 of taxpayer money.The website White House Dossier reports that the trip last year for Michelle Obama alone cost $63,000 in airfare, not including other normal expenses, let alone secret service protection. Only this summer, the couple also caused outrage after the family flew to Martha's Vineyard for a private get-away — on two separate jets only four hours apart, something the media quickly labeled a public relations disaster.In a report earlier this year, a White House source told the National Enquirer magazine that the first lady has a tendency to down top-shelf vodka martinis on her flights and blew $400,000 in taxpayer money during a 2010 jaunt in Spain."She can't schedule enough getaways, and she lives from one to the next – all the while sticking it to hardworking Americans," the source said.Of course, if the Obama's decided to book through Hotwire, by the way, they could fly the whole family, sans Barry, round-trip from nearby Reagan Nation Airport to Honolulu for $1,874.99, plus baggage fees. And only one layover, too!To Senate Majority Leader Harry Reid this week, President Obama said, "Michelle and the girls are going to have a great time in Hawaii. They don't need me there." Instead, it would seem, the commander-in-chief thinks his presence in Washington will do wonders to keep Congress in check.Maybe not so far, Prez. This is after all the same class of congressmen that, well, between you and me, don't seem to like you all that much. Since entering office in January 2009, Obama and family have gone to Hawaii each Christmas. In both instances he delayed his own flight to ensure Congress carried out legislation.
You can share this story on social media: