Obama campaign in debt after DNC goes $15 million over budget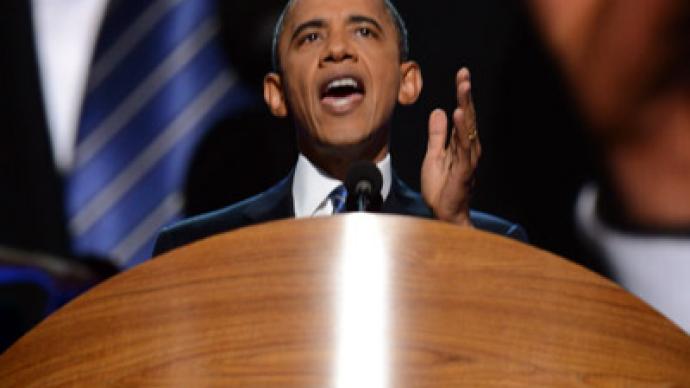 The Democratic National Convention went US$15 million over its budget, being forced to borrow money. The miscalculation could hinder President Obama's re-election bid, as his campaign may have to pick up the bill.
Two-thirds of the borrowed money came from Duke Energy Corp., and this chunk of money will need to be repaid next year.Bloomberg News interviewed several anonymous sources familiar with the convention's finances in order to understand internal deliberations regarding the budget.Of the US$15 million that the DNC borrowed, US$5 million will have to be repaid immediately and is likely to come directly from Obama's campaign account. In the final months of the presidential campaign – a crucial time for winning over undecided voters – the debts may impact the Obama's campaigns ability to spend on advertising and sway Americans.Democrats are already facing a cash disadvantage: Presidential nominee Mitt Romney and the Republican National Committee have a bank balance of US$169 million, while Obama's team only has US$107 million. The DNC banned direct cash contributions from corporations, which caused it to fail reaching its US$36.7 million fundraising goal for the convention."It is always easier to raise corporate dollars in advance of a convention because of the visibility and profile that corporate sponsorship can offer," Tony Corrado, a professor who specialized in campaign finance, told Bloomberg News. "After a convention, once the signs are down and the politicians have left, raising money is a much more difficult task."After financial help from Duke Energy Corp., the DNC was only strapped for $5 million that it would need to immediately repay its vendors. Mike Dino, former executive director for the host committee during the DNC in Denver, told Bloomberg News that the Obama administration did well by only going over by $5 million."If they got within 5 million, considering that they used the line of credit, I think that's awesome, given the restrictions that they had to deal with," he said. "They should be relieved to be in that range."But even though the Obama campaign is now millions in debt, it also received 700,000 donations during the convention – more than their goal of 600,000- potentially limiting the impact of their overspend.
You can share this story on social media: