DNC security rules raise fears of unconstitutional police tactics
Published time: 2 Sep, 2012 00:19
Edited time: 2 Sep, 2012 04:19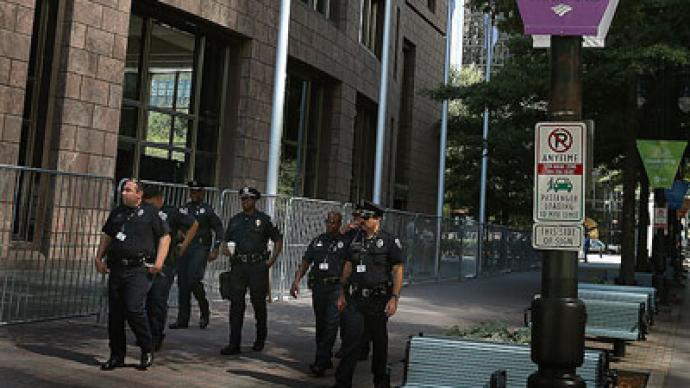 As the Democratic National Convention nears, people in Charlotte could face arrest for carrying water bottles, socks, markers, and other seemingly unthreatening items, triggering worries over free speech violations and warrantless searches.
­Guests and protesters of the DNC have expressed concern that law enforcement could violate their constitutional rights in the name of public safety. A new city rule for "extraordinary events" also bans the possession of handbags, backpacks, soda cans, drink coolers, scarves, bike helmets, baby strollers, and non-service animals.
The rules are vague, causing concern among citizens who don't know if the items they carry will land them in jail, the Associated Press reported.  A "container or object of sufficient weight to be used as a projectile" can be interpreted in many ways to include objects like digital cameras.
Not included in the list of banned items, however, are handguns and rifles. The state's laws grant anyone the right to carry firearms in public places. The firearms can only be concealed with a license.
Chris Brook, legal director of the American Civil Liberties Union of North Carolina, said he worries the new measures could violate the Constitution – especially the part that bans bags "carried with the intent to conceal weapons or other prohibited items."
This "intent," which is up to the discretion of police officers, can lead to warrantless searches. If police assume a person has the "intent to conceal" prohibited items – which include water bottles and hair spray – and the carrier refuses to comply with police orders to search the bag, then the officer could ostensibly arrest the person.
"I think it's exceptionally difficult to divine whether someone is carrying a backpack for their books or carrying a backpack with the intent to conceal weapons," Brook said. "I think that could easily lead to standardless searches. I think it could easily lead to situations where there is some profiling going on, for example a person wearing a business suit might be far less likely to be searched than some other individuals."
Leaders of scheduled DNC protests have expressed fears that the more than 1,750 Charlotte police officers and 3,400 officers from other departments would abuse their powers during the convention. Convention officers receive only 20 minutes of training on the city's new rules regarding extraordinary events.
Charlotte is expected to host a greater number of protesters than the RNC convention, largely due to Hurricane Isaac's presence in Tampa. Sunday's "March on Wall Street South" is expected to attract thousands of protesters.
Past conventions have come with both violence and police corruption. The 2004 RNC convention in New York resulted in the arrests of more than 1,800 individuals and hundreds of detainees in miserable conditions on a Hudson River pier. More than 90 per cent of the charges were dropped, while the arrests triggered hundreds of lawsuits against the city's law enforcement.
As the DNC approaches, activists are increasingly concerned about the vague rules and their enforcement by police.
"I think this is an attempt to vilify protesters," said Occupy Charlotte activist Michael Zytkow. "I think it's an attempt to prevent us from coming out and joining and expressing our rights to march on the street and express our grievances."