No protest; no guns: Tampa, Florida asks, 'How much of the Bill of Rights can we get rid of?'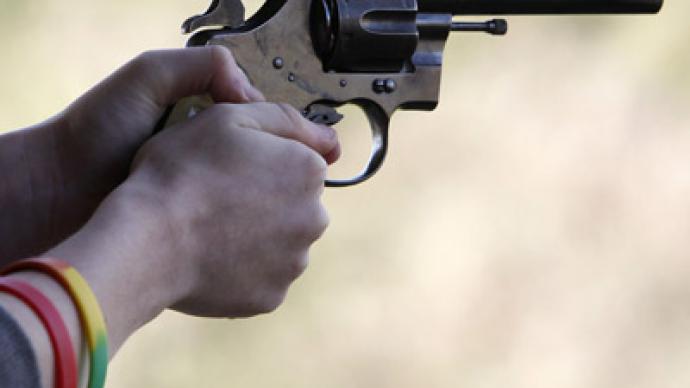 The City Council of Tampa, Florida is asking Republican Governor Rick Scott to issue an executive order that would keep people with permits for concealed weapons from — wait for it — carrying concealed weapons.
Citing concerns over how armed protesters could disrupt the Republican National Convention slated to occur in Tampa, Florida this summer, lawmakers in the city are demanding that Governor Scott sign an executive order that would strip legal gun owners from their right to keep and bear arms concealed on their person.Because Florida law prohibits local authorities from overruling gun statues that apply to the whole state, the Tampa City Council cannot impose a ban of their own. Worrying over the possibility of protesters arming themselves with guns instead of signs, lawmakers on a local level are asking the state's highest authority to put a temporary ban on concealed weapons.The Republican National Convention is currently scheduled for August 27-30 at the city's Tampa Bay Times Arena; Democrats will descend in Charlotte, South Carolina a week later to gather for their own event at the Time Warner Cable Arena.Under current Florida law, citizens of the state can apply for a permit through the Department of Agriculture and Consumer Services that allows for residents to keep handguns, tear gas guns, knives, billy clubs and other weapons out of ordinary sight of others. Notwithstanding felony convictions and documented mental health issues, Floridians that can demonstrate competency with a firearm can apply for a concealed carry permit that's good all the way from the Everglades to the Alabama border. They became the first state to pass such a law in 1987.On the department's website, Commissioner Adam H Putnam acknowledges,"Applying for a license to carry a concealed weapon or firearm for self-defense is a right of law-abiding Floridians."The City Council is looking to take that right away, however — at least for a little bit."We believe it is necessary and prudent to take this reasonable step to prevent a potential tragedy," councilmember Lisa Montelione pleads in a letter sent to Governor Scott.The city's mayor, Bob Buckhorn, adds to the Tampa Bay Times that "Given the nature and the potential dynamic of this event, I think it would make sense that you would not want firearms introduced into that environment by people other than law enforcement."As with other gatherings considered to be events of national significance by the US Department of Homeland Security, the Secret Service will also be dispatched to both Tampa and Charlotte. Under the recently passed Trespass Bill, H.R. 347, causing a disturbance at either convention can bring on criminal charges for protesters taken into custody by the police.Although the council's concerns are not without merit, their demands have riled up advocates of both the First and Second Amendments that are critical of the government even considering a maneuver that would alter how they would be able to protest and protect themselves. In support of their call for the governor to sign an executive order, however, the city council notes that the last Republican National Convention was marred by rioting and mass destruction when it was held in St. Paul, Minnesota in 2008.The venues hosting both the Democratic and Republican National Conventions have officially barred attendees from bringing weapons onto the premises, but that does nothing to dismantle the right of any permitted gun owner to carry a concealed weapon outside the buildings where thousands of protesters are expected to gather.Or does it?In Tampa, organizers are proposing a "Clean Zone" protest area, reports the Associated Press, where demonstrators will be provided with a sanctioned parcel of land adjacent to the arena to exercise their First Amendment rights. Joyce Hamilton Henry of the American Civil Liberties Union reveals, however, that the city might try to curb protests by limiting them to an hour in length."We feel it's totally unrealistic, especially if groups are coming in with large numbers," Hamilton Henry tells the AP.In Charlotte, the Coalition to Protest at the DNC has vowed to wage a mass demonstration, without permits, to protest the city's refusal to work out plans for a counter rally."This is something we have to do. They can't stop our right to protest," Ben Carroll, a spokesperson for the groups, adds to the AP.Similarly, the Coalition to March on the RNC is orchestrating a rally during the convention weekend in Tampa where protesters plan to"say no to the Republican Agenda"and fight against corporate greed.If the Tampa City Council has their say, however, they will have to leave their firearms at home.
You can share this story on social media: