Oakland police prepare for mass protest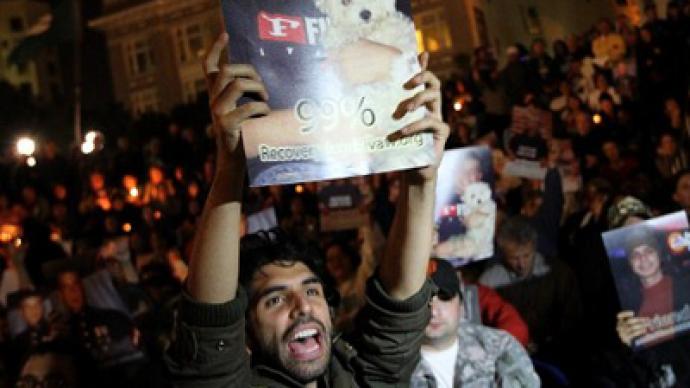 As thousands of protesters prepare to launch a city-wide strike in less than a day, Oakland, California officials are gearing up for what could come as a turning points in the Occupy movement as all eyes have turned to the Bay Area.
Despite a series of violent raids by the police last week, protesters with Occupy Oakland have upped the ante and called for a general strike across the city tomorrow. Though they vow that Wednesday's events will be peaceful, authorities are beefing up their forces to make sure that protesters do not become unruly.During a peaceful protest last week, a projectile believed to be fired by an Oakland police officer left Scott Olsen, a 25-year-old Iraqi War veteran, hospitalized with a fractured skull. While protests in the spirit of the Occupy Wall Street movement that originated in New York City continue to expand, Oakland has become an unlikely hub for the demonstrations."All over the world people are marching in solitary with and looking to Oakland," rapper Boots Riley tells the Associated Press. "People are looking at Oakland, California. You know why? It's become clear that some people in the United States have made a radical, militant connection between capitalism and labor.""We want to show that for this one day, we can take it back if we want to," adds Riley, who weeks earlier made a series of appearances at New York's Zuccotti Park, where the movement began seven weeks ago.In its latest move, organizers of Occupy Oakland have asked people across the city to refrain from going to work and school tomorrow, instead using their day to protest peacefully together and help bring attention to the movement. The board of the Oakland teachers union has given the okay for educators to participate in the protests, as have several unions in the greater Oakland area. The San Francisco Chronicle adds that some participants intend on shutting down the Port of Oakland in the evening, the fifth busiest port in the nation. An anti-war protest at the ports back in 2003 ended with over 40 injuries after the police used aggression against demonstrators."If you look at the level of police violence that happened to this group last Tuesday, despite that, the discipline and restraint of the crowd shows that's not why we're here," Occupy organizer Tim Simons tells the Oakland Tribune. "Right now people feel like they're winning. This is a celebration of Oakland's power. It's going to be festive and calm."In addition to tomorrow's general strike, other events have been scheduled across the city, including a series of marches and musical performances. In preparation, the Oakland Police Department is once again calling for assistance from law enforcement agencies from neighboring municipalities as it did during last week's raids. During those crack-downs, 17 agencies aided the Oakland PD in making over 100 arrests.
You can share this story on social media: