Veteran in critical condition after police assault at Occupy Oakland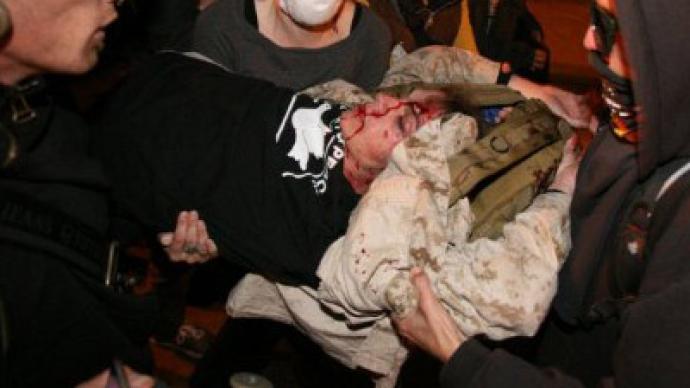 Scott Olsen returned relatively unscathed to America last year after serving two tours of Iraq fighting a war he was opposed to. Now he lays in an Oakland, CA hospital in critical condition thanks to a projectile fired last night by police.
Olsen, a veteran of the 3rd Battalion, 4th Marines, was injured last night while participating in the Occupy Oakland demonstration, a West Coast offshoot of the ongoing Occupy Wall Street protests that have spread across the world. Tuesday morning police had launched a spontaneous raid on the Bay Area campsite, evicting and arresting dozens of peaceful protesters. Vowing to return to keep their fight alive, hundreds came back hours later to continue their occupation in downtown Oakland, a neighboring city of San Francisco.Last night, however, a crack-down courtesy of the Oakland Police Department was launched once again, and adding to the violence that began Tuesday morning, authorities were back in full force, weapons drawn, ready to attack demonstrators as they ran them through the city.Olsen, 24, was apparently hit in the head with a projectile that the police say is non-lethal. "This poor guy was right behind me when he was hit in the head with a police projectile," eyewitness Jay Finneburg writes on Indybay. "He went down hard and did not get up."This afternoon, Olsen's roommate tells reporters that doctor are assessing the seriousness of the brain swelling that the vet is experiencing as he awaits treatment. "It's terrible to go over to Iraq twice and come back injured, and then get injured by the police that are supposed to be protecting us," Keith Shannon, Olsen's roommate, tells The Guardian this afternoon. The curved scar on Olsen's forehead, says Shannon, is consistent with what is left by canisters fired by police.During last night's incident, protesters were subjected to tear gas, flash grenades, sound cannons and other artillery as police used excessive force to evict demonstrators from Oakland's Frank Ogawa Plaza. Earlier that morning a similar assault had occurred, spurring protesters to relocate to different encampments across Oakland. After the arrests, they regrouped in the evening and launched a march through the city hours later."People are going to keep coming back. What are they going to do, send cops in every night and waste taxpayer dollars?" protester Gabe Meyers asked the San Francisco Chronicle following the initial raid.Even after the brutal assault on Olsen, protesters plan to return this afternoon.Local news stations carried last night' march live from camera-equipped helicopters as hundreds of demonstrators walked the streets of Oakland. Feeds were cut short, however, as police forcefully attacked participants of Occupy Oakland. As the assault escalated, images and video were quickly published to the Web from civilians that captured police attacking protesters — including children and the disabled  —  with weapons they insist are non-lethal.Hours later, however, Shannon says that his roommate is awaiting an assessment from a neurosurgeon to see how serious his injuries are. As the hours progress, his condition has worsened to critical."I'm just absolutely devastated that someone who did two tours of Iraq and came home safely is now lying in a US hospital because of the domestic police force," Adele Carpenter, another friend of Olsen's, told the Guardian earlier today. Shannon adds that Olsen, a fellow member of both Iraq Veterans Against the War and Veterans for Peace, had been opposed to the war in Iraq since before he first fought overseas in 2006. A year later he was back for his second tour. Last week a fellow veteran, Sgt. Shamar Thomas, sat down with RT to discuss the Occupy Wall Street movement. He had served overseas himself, but upon returning to New York and watching the police attack protesters in Manhattan, he became outraged. A video of Sgt. Thomas, clad in his military fatigues and lecturing the NYPD, garnered millions of YouTube hits within days."What made me angry was to see the police hurting unarmed protesters that I haven't seen become violent with the police or dangerous to anybody else that was in the populace," said Sgt. Thomas. "To come back to my country and see the police doing this to the people . . . I'm not going to stand for it," he added.Frank Ogawa Plaza, the meeting place for the Occupy Oakland demonstrators, is named in honor of an unarmed man that was killed by police in 2009. Olsen's condition was described by an Highland hospital spokesperson as "critical" at 3:10 pm ET Wednesday, around 16 hours after police action put him in the Emergency Room. At 5:36 a tweet from the @OccupyOakland account confirmed that Olsen would be shortly entering surgery.
You can share this story on social media: