NYPD officer charged with multiple felonies for unlawful arrest of New York Times photographer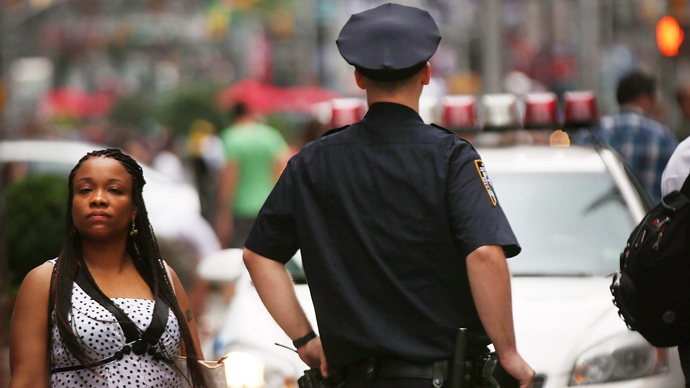 The New York City police officer that arrested a New York Times photographer has been indicted on three felony counts and five misdemeanor counts for fabricating the cause of the arrest.
Officer Michael Ackermann, 30, was charged with tampering with public records, falsifying business records, official misconduct and making a false written statement, police told CBS New York. If convicted, he faces termination from his job at the NYPD. If convicted of the most serious charge alone – tampering with evidence – he faces up to seven years in prison.
On August 4, 2012, Ackermann arrested 44-year-old Robert Stolarik, a New York Times photographer who was taking pictures of a police response to a fight in the Councourse neighborhood of the Bronx.
Police were arresting a teenage girl who was involved in the fight and asked Stolarik to stop taking photos. Stolarik identified himself as a Times journalist and continued snapping pictures. Suddenly another officer grabbed the camera and slammed it into his face, the photojournalist said at the time. He said he was assaulted, pushed forward and kicked in the back, which resulted in scrapes and bruises on his body and face. He was then handcuffed and thrown in jail, while his equipment – valued at $18,000 – was confiscated.
"Officers took me down and dragged me; I don't have any internal injuries or broken bones, but it feels like I did," Stolarik, a former war correspondent, told the Village Voice after the incident.
"I can't even believe they have any justification for what they did," he added. "I was treated with more respect in the worst places than I was in this situation. It's unbelievable to fear for your life in your own city."
Stolarik was later charged for obstructing government administration by repeatedly using his flash and "violently" resisting arrest by harming the officer with his camera. In response, the photographer argued that his camera may have "inadvertently" hit the police officer, but that he did not respond intentionally in a violent manner.
This month, the court sided with the newspaper photographer. Bronx District Attorney Robert T. Johnsonon Monday announced that according to a probe by prosecutors and the NYPD's Internal Affairs Bureau, the photographer never used his flash and did not even have one on his camera at the time of the incident. No witnesses reported seeing a flash and the photos taken during the arrest showed that no flash had been used. Officer Ackermann was arraigned for fabricating details about the incident. The NYPD officer was charged with three felony counts and five misdemeanor counts, and all charges against the photographer were dropped.
"We are pleased that officials in the Bronx took a serious look at this case and brought an indictment after finding police misconduct," said Abbe Serphos, a New York Times spokeswoman. "We remain troubled that the arrest of the photographer, Robert Stolarik, was made in the first place."
Officer Ackermann has been released on a personal recognizance bond pending the outcome of the case.
You can share this story on social media: